What are the skills and abilities needed in an agile workforce? This was one of the key questions we asked in our previous blog on Agile HR. Building an agile workforce has been identified as crucial for preserving organisational competitiveness and promoting agility.
But first, what is an agile workforce?

The term "agile workforce" describes a group of employees who can adapt to a rapidly changing and uncertain work environment through knowledge, skills, and the adoption of proactive, adaptable, and flexible behaviours. Agile employees also have the capacity to adapt to new ways of working and new job requirements. The term has become more popular in recent months/years because of the drive towards business agility. Here we look at the characteristics of agile employees.
Our most recent systematic review of academic literature on agile HR highlights the complex and diverse skills needed in the agile workforce. To be "agile" an employee needs four inter-related attributes: proactivity, resilience, competence, and flexibility and adaptability.
Proactivity is the ability to anticipate changes and make decisions to solve problems. This is advantageous to both the employees themselves and their organisations.
Flexibility and adaptability in the workplace refer to the abilities, mindsets, and behaviours that enable employees to cope with unforeseen changes in their working environments and embrace them.
Resilience represents favourable attitudes towards and tolerance of novel concepts, work practices, technologies and resources.
Competence is the most important attribute and refers to an employee's cognitive, technical, and social abilities that enable them to continuously learn new information and skills in order to adapt to changes and take advantage of opportunities in the workplace. Additionally, it includes their ability to establish trusting relationships with all stakeholders involved.
Each attribute is further described below by a group of metrics or indicators that have been compiled from academic research. An agile employee needs to possess these interconnected attributes in order to perform better and quickly recognise trends.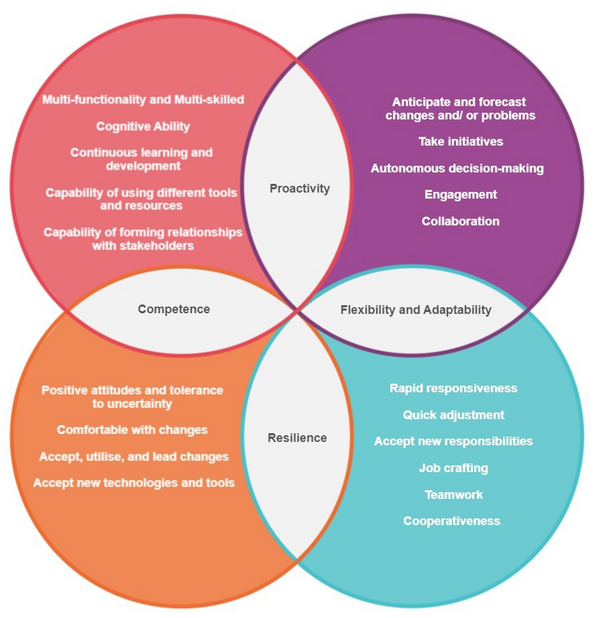 ---
Please note blogs reflect the opinions of their authors and do not necessarily reflect the recommendations or guidance of the Agile Business Consortium.