About Us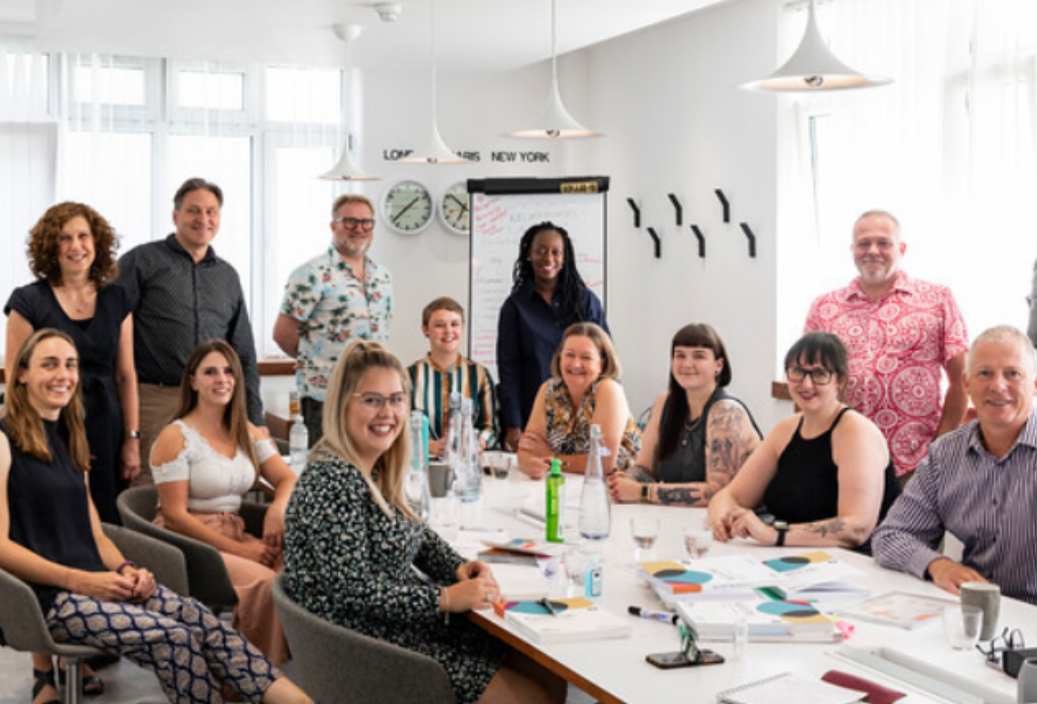 The Agile Business Consortium is an independent professional body dedicated to advancing business agility worldwide in accordance with a defined set of professional standards and a code of practice. It does this by:
Supporting the development of professionals through pathways of formal CPD, informal learning and validated certification
Providing access to: relevant, trustworthy, content; a range of events and special interest communities; a network of like-minded professionals
Commissioning and engaging in research, thought leadership, and market-wide collaborations to extend knowledge and develop good practice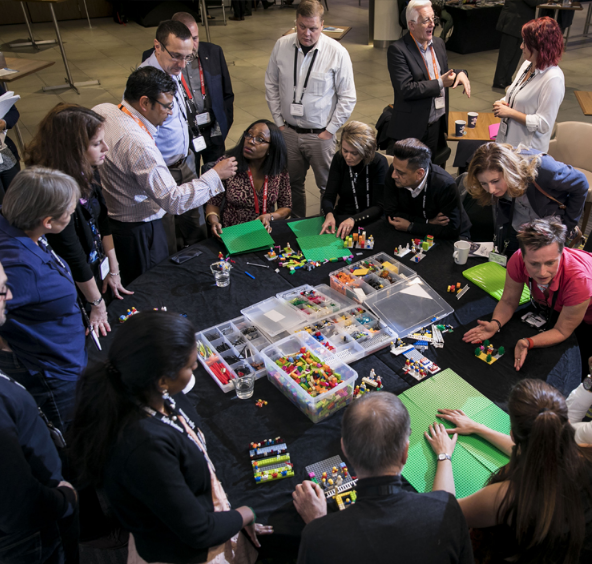 Business agility means having flexibility with purpose, allowing organisations to make important decisions and carry out important work quickly and safely.
Agile organisations are best placed to thrive in today's turbulent world, – delighting customers, motivating staff, and delivering better results faster and more efficiently than their less Agile competitors.
We encourage an inclusive, agnostic and people-centred approach to organisational agility including the use of a wide variety of agile methods and frameworks.
We are the brains behind DSDM, AgilePM®️, AgileBA®, AgilePgM™️, AgilePfM, and AgileDS™️, as well as the originators of the Framework for Business Agility and the Agile Project Framework.
In 1994, business leaders were frustrated by costly, rigid or unreliable software development methods. They wanted to adopt a new, rapid yet robust method that could instantly transform delivery, making projects more responsive while bringing them in on time and on budget.
As a result, the not-for-profit DSDM Consortium was formed by several organisations from both the public and private sectors, with the aim of defining an industry standard for a new method. In 2001, DSDM helped shape the Manifesto for Agile Software Development, now known as the Agile Manifesto.
AgilePM®️ and the DSDM Agile Project Framework were released in 2010, since then over 189,000 people around the world have takene AgilePM exams, making AgilePM the most popular agile project management qualification in the world.
In 2016, 22 years after its inception, the DSDM Consortium refocused in response to prevailing conditions to address the wider context of business agility, of which agile in IT-terms is a part. With the refocus came a rebrand to Agile Business Consortium.
A global leader in advancing business agility, with unrivalled expertise in the field, the Consortium continues to support new developments and thinking across the entire agile domain, including agile people, culture, leadership, strategy, and governance.
KEY NUMBERS
Impact in numbers
Over
189,000
Graduates and counting
Over
20,000
People in our network
Over
30
Countries in our community
Agile Culture
Agile Leadership
Agile Strategy
Agile Governance
Agile People
Operational Agility
Business Change Agility
The Framework for Business Agility
The Framework for Business Agility has been created to help organisations survive and thrive in a volatile, uncertain, complex and ambiguous environment. It's been shaped by the real-world experiences of Consortium members and other agile professionals.
At its heart lie the five elements that can make an organisation truly agile: its governance, people and culture.
The agility of each element will influence the way the organisation operates and evolves in response to the ever-changing needs of its customers and stakeholders.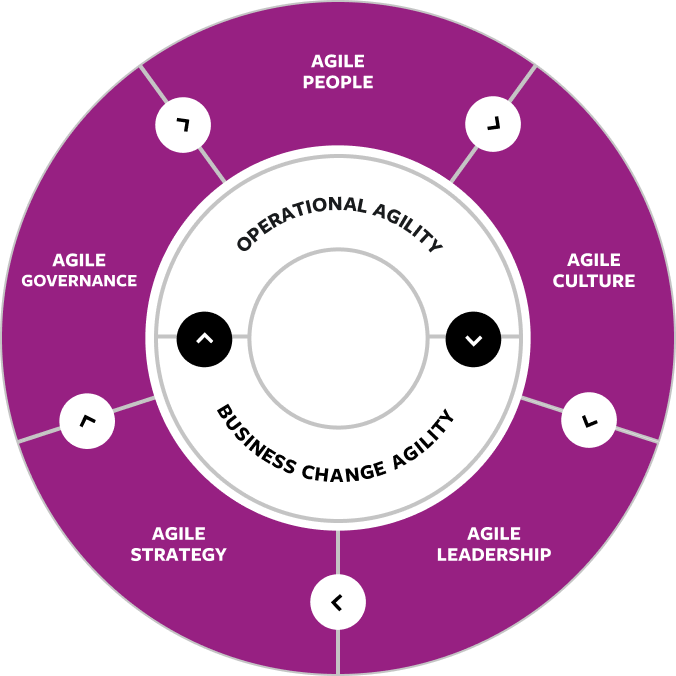 Agile Culture
An organisation's culture reflects its personality – one that's influenced by a range of factors, including its size, geographic spread, beliefs, and values. People and events also affect an organisation's culture.
An agile culture provides an organisation with a set of core values, behaviours and practices that allow it to prosper in a world characterised by volatility, uncertainty, complexity and ambiguity.
Its success also comes from promoting, encouraging, rewarding and harnessing the flexible and innovative behaviour of people within the organisation, spurred on by the three components of intrinsic motivation (as espoused by Daniel Pink): autonomy, mastery and purpose.
The Agile Business Consortium has identified seven elements that combine to form the DNA of an organisation's agile culture, for which it has created a Development Matrix for Agile Culture describing five levels of agility for each of the seven elements.
Please feel free to use the Matrix and the associated Pulse Survey to understand and enhance your organisation's agile culture.
View more about Agile Culture.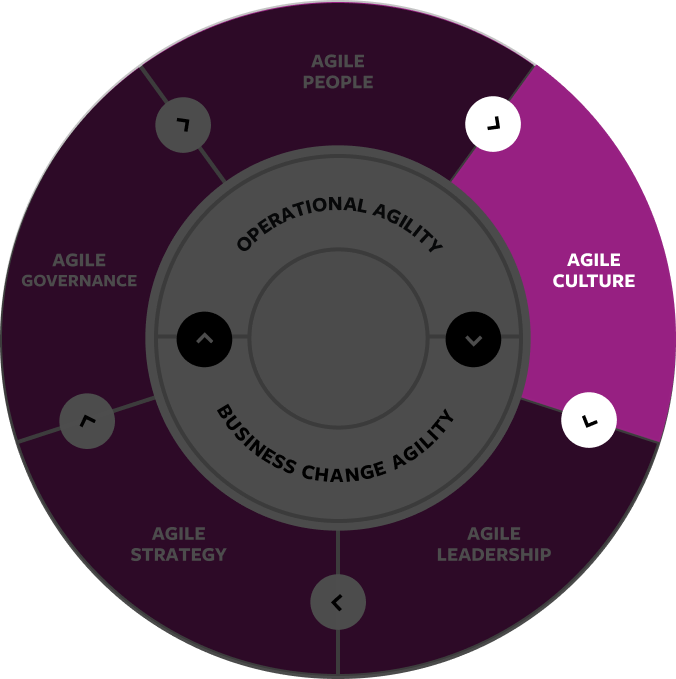 Agile Leadership
Traditional leadership often involves guiding and influencing the thoughts and actions of people within an organisation to achieve specific outcomes set by others.
To achieve flexible, resilient and adaptable organisations, agile leaders seek to develop others as leaders at all levels, believing we all have the potential inherent in a growth mindset to deliver on a shared purpose.
Agile leadership feels quite different to traditional leadership in its style and requires a willingness from leaders to ensure that they extend their own competencies, capabilities and thinking to 'being' agile rather than just 'doing' agile, and not merely to expect others to do so.
Agile leaders must also nurture flexibility, resilience, and adaptability by developing others as leaders at all levels.
Those principles should be embraced by any leader wishing to harness the power of collective effort – regardless of scale or authority.
The Agile Business Consortium has defined nine principles for agile leadership that are aligned with the agile themes of communication, collaboration and commitment.
These principles should be embraced by any leader wishing to harness the power of collective effort – regardless of scale or authority.
View more about Agile Leadership.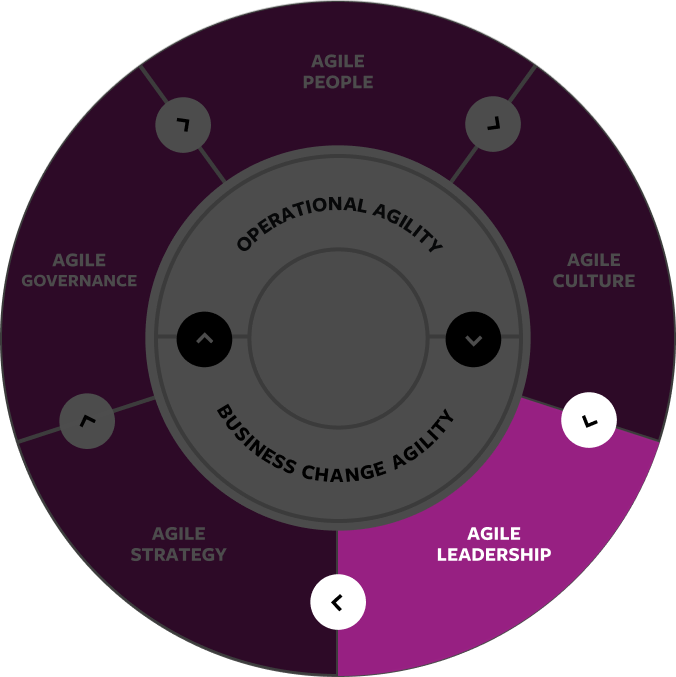 Agile Strategy
Strategies allow organisations to develop, describe, adapt and implement high-level plans to achieve one or more high-level objectives.
A strategy may apply to the enterprise as a whole or a subset of it.
Agile strategy allows more detailed plans to evolve in response to issues or events, and at a pace that's relevant to the environment in which the organisation operates.
And flexibility in planning will ensure that the strategy remains relevant and effective in environments that may be volatile, uncertain, complex and ambiguous.
The success of an agile strategy is enhanced by:
Combining the strategy development, execution and adaptation phases into an iterative and continuously evolving process.
Applying the strategy in chunks for early and regular testing of its effectiveness and need for change.
Monitoring the external environment to see whether the strategy requires modification.
Ensuring that the organisation and its people are aligned with the strategy.
View more about Agile Strategy.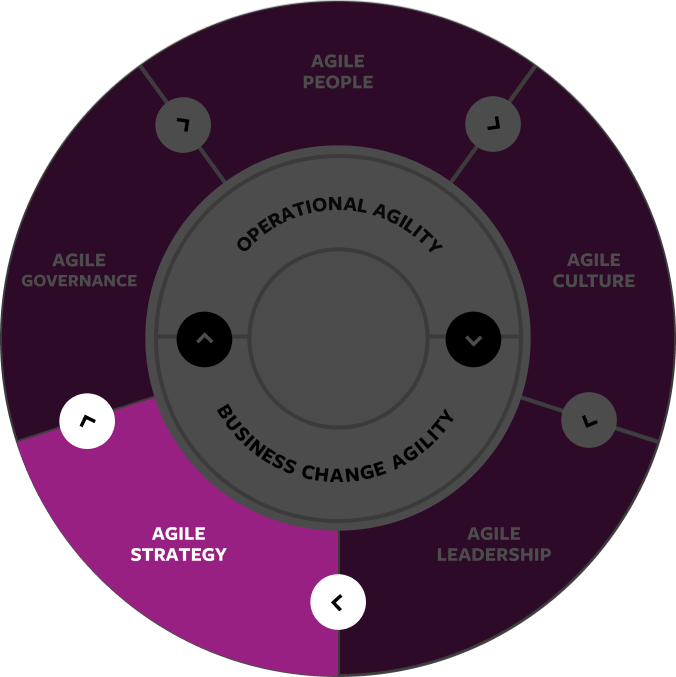 Agile Governance
Governance impacts how an organisation's objectives are set and achieved, how risk is managed and how performance is optimised.
It can be defined as the structures and processes for decision-making and accountability.
Agile governance builds on a set of core agile values, behaviours and practices that allows an organisation to prosper in a world characterised by volatility, uncertainty, complexity and ambiguity.
It's characterised by demonstrating control through transparency of process and performance in a way that's consistent at all levels within an organisation, from corporate governance for multinational companies, large corporates and governments – all the way down to small teams or even individuals that are delivering products or services in line with the purpose of their organisation.
The concept of consistency of governance across such a broad spectrum is at an early stage of its evolution.
View more about Agile Governance.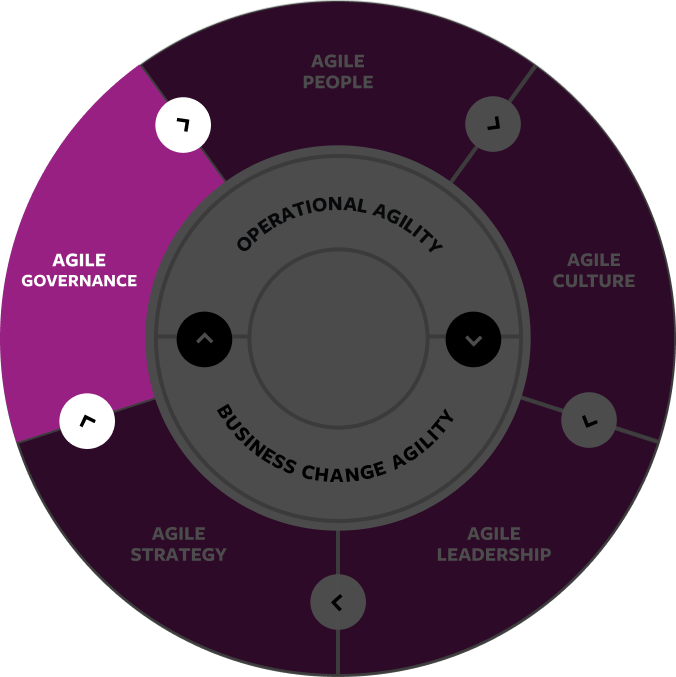 Agile People
Agile people are naturally curious and keen to develop their skills and capabilities through experience and study.
They feel at home in an agile organisation because agile organisations are learning organisations.
In his book The Fifth Discipline, Peter Senge defines a learning organisation as one "where people continually expand their capacity to create the results they truly desire, where new and expansive patterns of thinking are nurtured, where collective aspiration is set free, and where people are continually learning how to learn together."
The underlying philosophy of agile values individuals and interactions over compliance with processes and tools – in so doing, placing a much greater emphasis on liberating the collaborative creativity of people and how they work together.
For organisations to be truly agile, they must be populated with agile people who thrive in an agile culture that's enabled by agile leadership, agile strategy and agile governance.
View more about Agile People.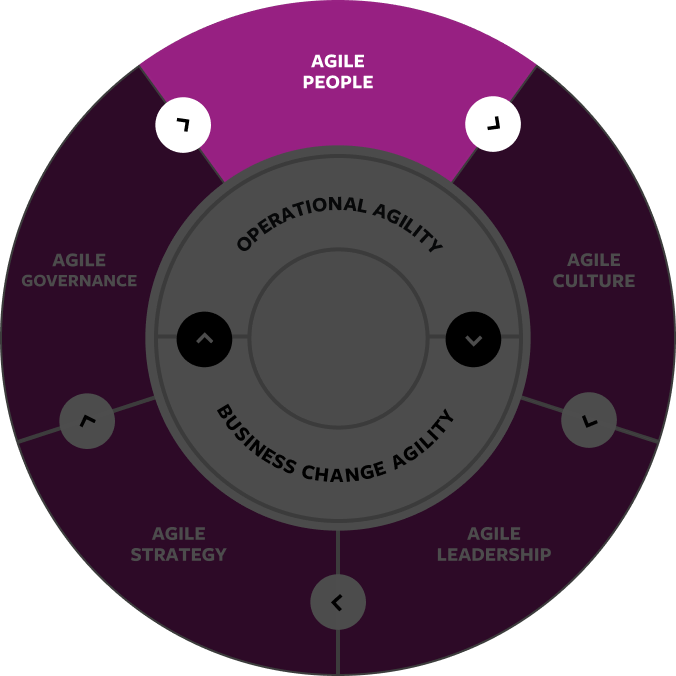 Operational Agility
Organisations operate in a world that's characterised by volatility, uncertainty, complexity and ambiguity.
To survive and thrive in such an environment, an organisation needs to be able to respond quickly and decisively to any new opportunities and threats that emerge.
Doing so is dependent upon the Operational Agility of the organisation, with the most agile being able, with ease and consistency, to turn turbulence in their operational environment to their advantage. In contrast, the least agile will need a special response to avoid being overwhelmed by even the smallest stimuli.
The Operational Agility of an organisation is dependent upon agility in the following areas:
Leadership

– preferably a style that allows leaders to emerge anywhere in the organisation to lead the response to new opportunities and threats.

Strategy

– one that conveys a clear sense of purpose, yet is flexible in its implementation.

Governance

– a regime that demonstrates control through transparency of process and performance.

People

– that are knowledgeable, experienced and empowered to make decisions.

Culture

– one that provides the organisation with a set of core values, behaviours and practices that allow it to prosper in a world characterised by volatility, uncertainty, complexity and ambiguity.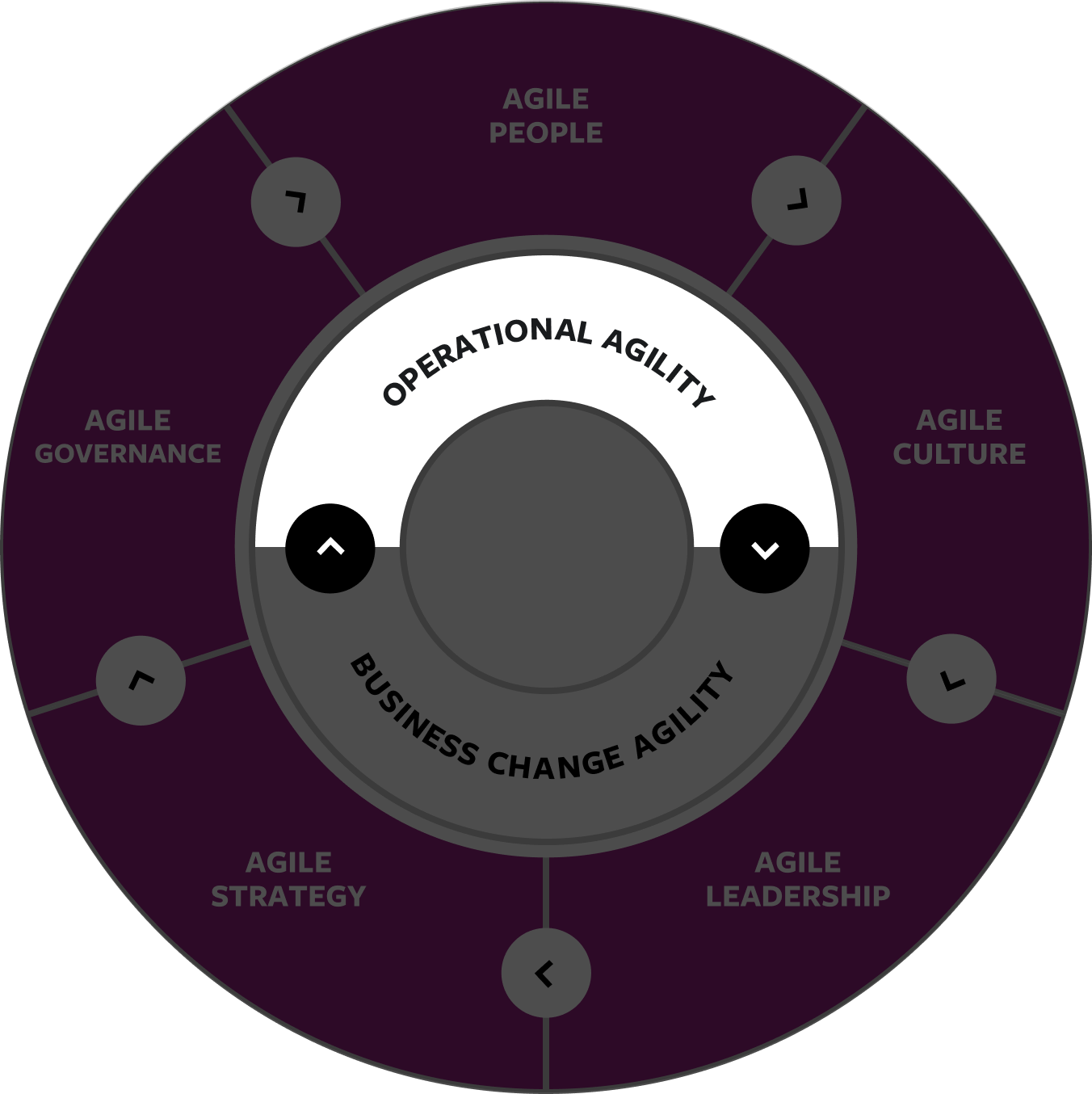 Business Change Agility
A special response may be needed to handle business change that exceeds the capacity and capability of the day-to-day operational management team.
In such instances, agile projects and programmes (for groups of projects sharing the same change objective) offer tried and trusted mechanisms for coordinating complex change activity across multiple parts of an organisation.