This 5th State of Agile Marketing Report from AgileSherpas provides a close look into the current state of trends about the benefits and barriers to lasting agility for marketers.
Apart from ongoing trends, this year, we saw new trends emerge as well. For example, an exponentially widening divide between marketers who successfully adopt Agile and those that struggle with doing so, as well as a growing connection between marketing agility and business agility. Let's dive into the data and learn how agility is spreading!
Agile Adoption Rate Expands
Agile marketing is experiencing a boom. In the 2021 edition of the State of Agile Marketing Report, more than half of marketers surveyed said they were using some Agile practices to manage their work. Marketers have reached a tipping point where Agile marketers outnumber traditional and ad hoc for the first time in history.

Forty-eight percent of the remaining respondents say they'll be starting their transformation journey within the next six months, with another 43% saying it'll happen within the year. In other words, the vast majority of marketers are either using Agile or planning to start using it in 2022.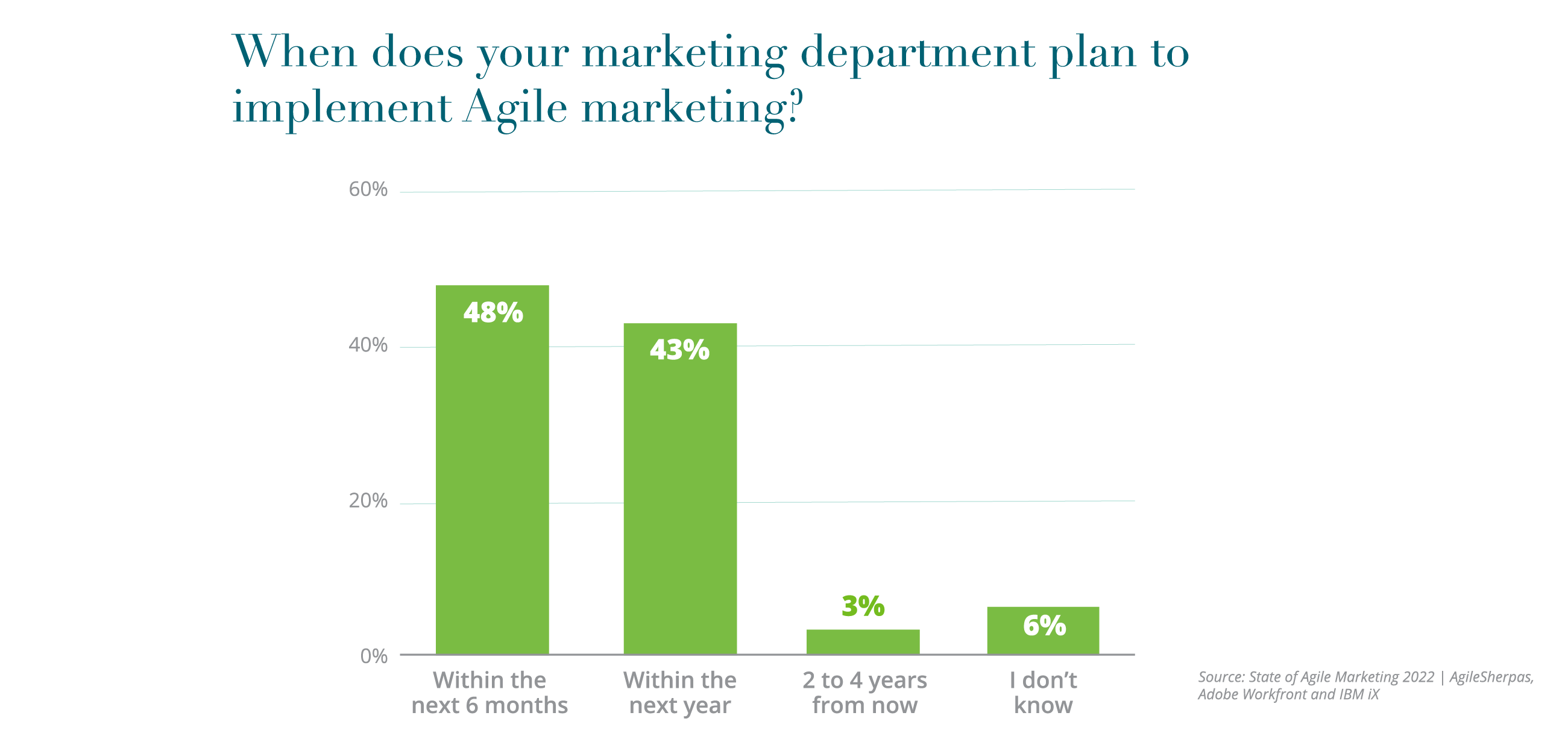 The report also provided numbers that show newly piqued interest in agility from functions like sales, finance, and human resources. That's not surprising considering the data shows that fully Agile teams enjoy higher levels of satisfaction with the way their work is managed compared to those who use a traditional or ad hoc approach to marketing. In fact, an overwhelming 75% of Agile marketers claim they're satisfied with the way they currently manage their work.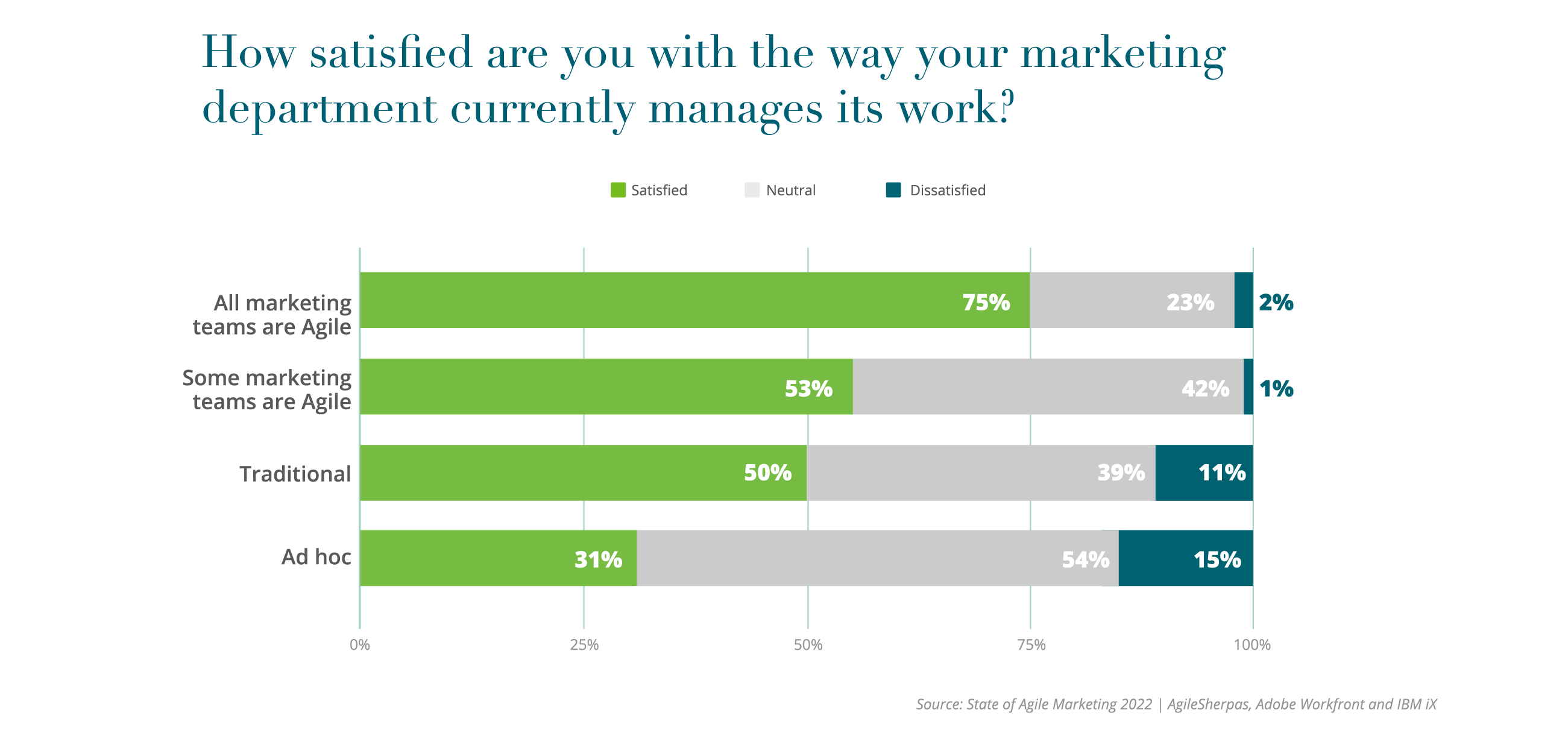 Same Challenges, Different Day
As Agile adoption grows, we're noticing more patterns in the barriers that people are encountering in their use of its frameworks.

Year after year, the data supports the conclusion that Agile education is a make-it-or-break-it factor for any transformation. Fifty-eight percent of marketers list a lack of training and knowledge about Agile approaches as their biggest barrier to successfully implementing Agile.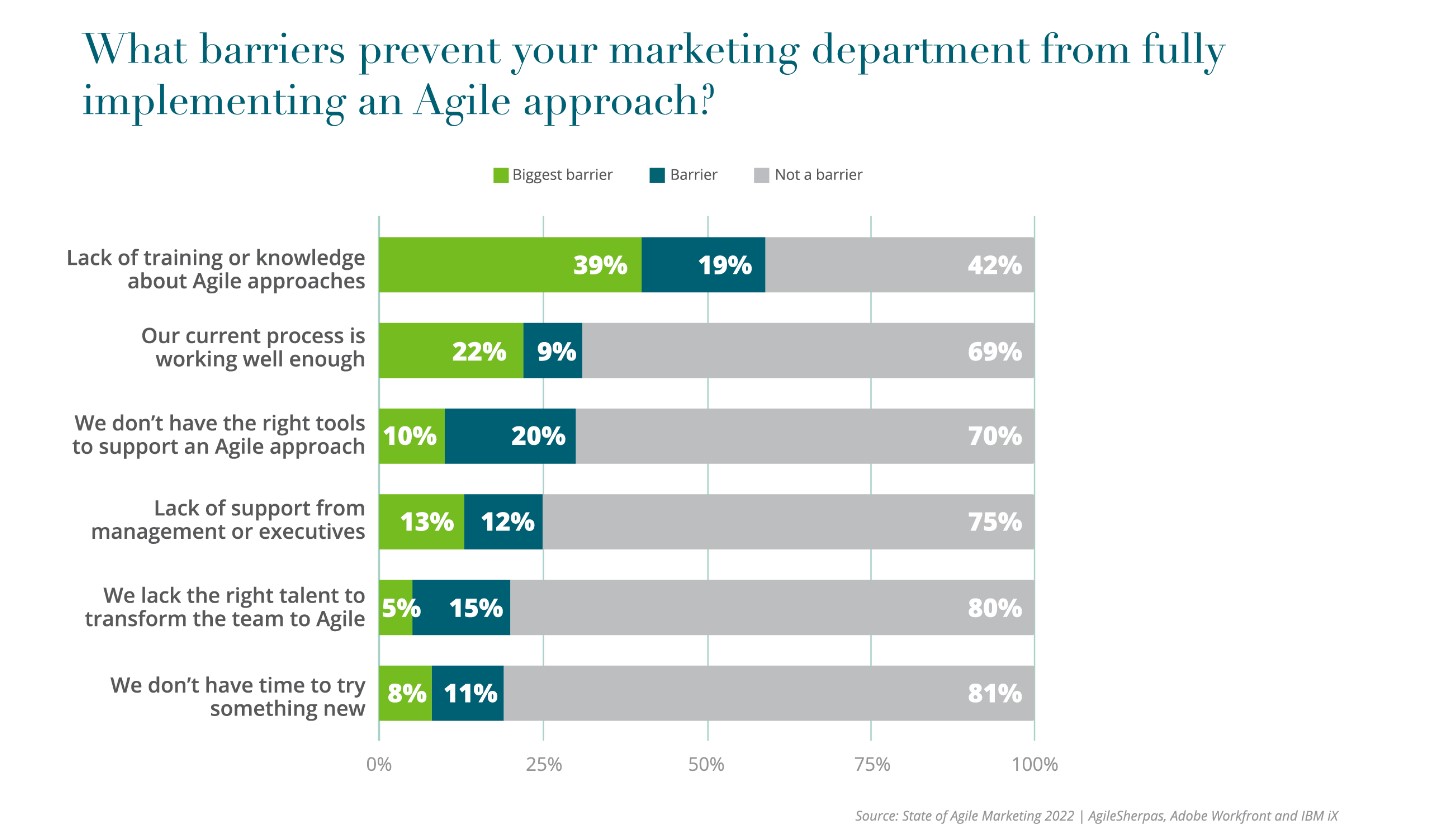 Difficulties with unplanned work also continue to plague Agile marketers, but this challenge was surpassed this year by the tendency for people to revert to their non-Agile comfort zones.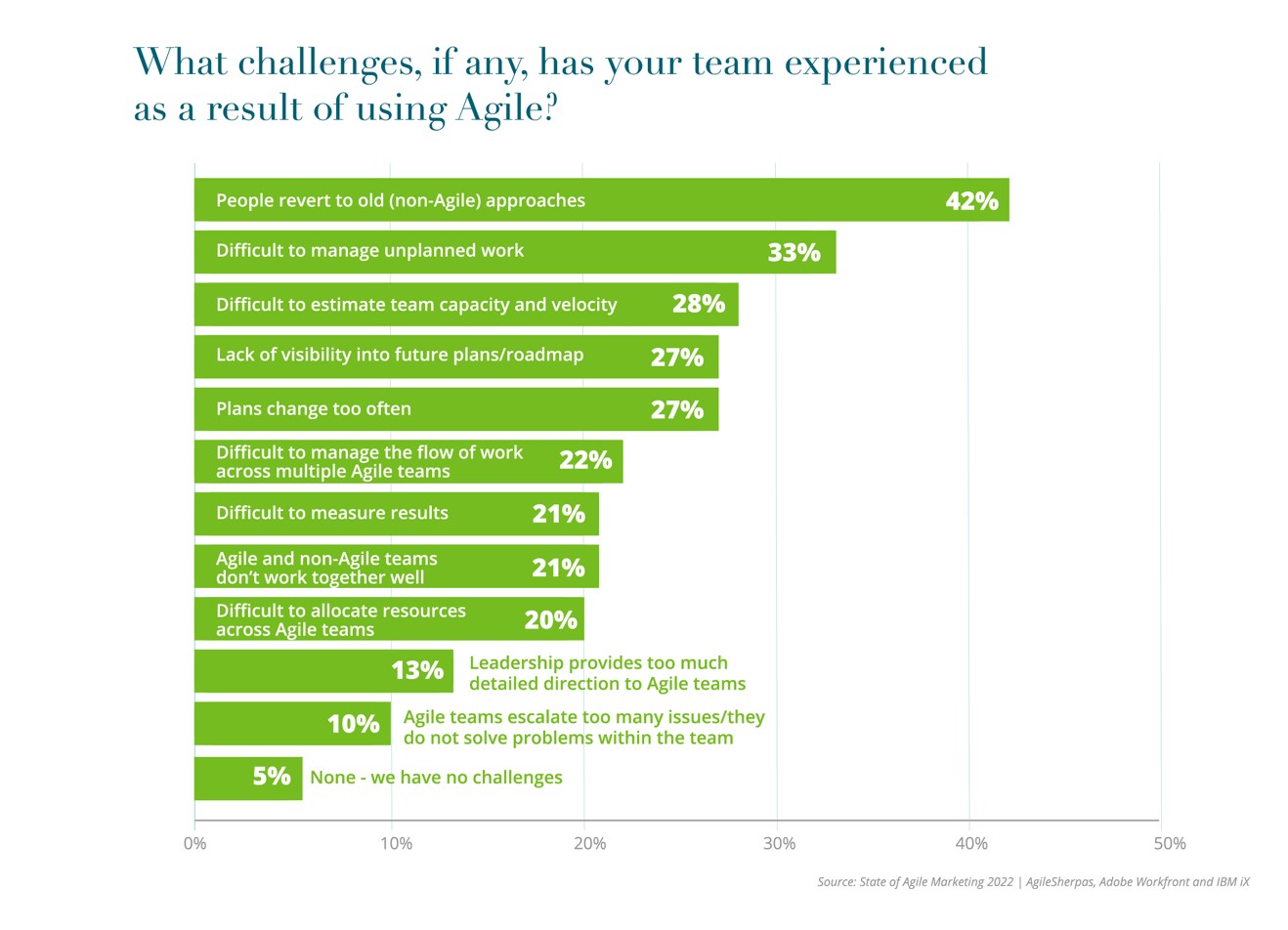 As we see throughout the report, Agile transformation isn't a short-term process. To sustain the change over years, leaders need to be prepared to support their teams through coaching and ongoing education. One-off training simply isn't enough to make agility stick, and it's far more likely to lead to this kind of backsliding.
Agile Benefits We All Want to Reap
With hard work and dedication, sooner or later visible results arrive. Indeed, 63% of marketers who began using Agile found they could better manage changing priorities as well as improve visibility into project status. They even noticed an increase in team morale and productivity.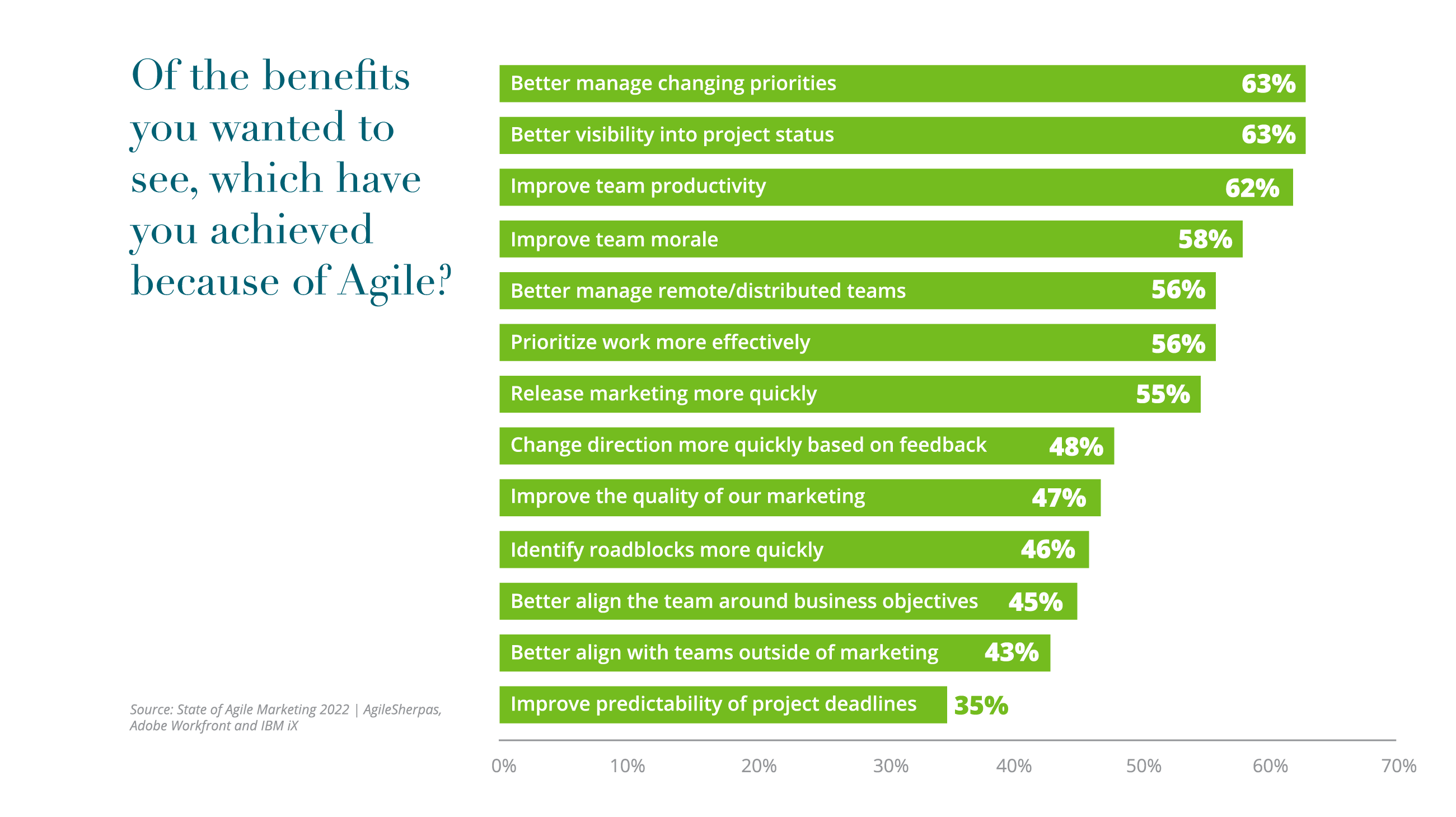 The report clearly showed that Agile marketing teams are able to better manage distributed teams, prioritize work more effectively, focus on quality and align with business objectives.

They are satisfied with how their organization manages projects, which, in turn, makes them confident that they can handle fast-paced work and push back on unplanned work.

The benefits and value are key drivers that inspire organizations to progressively go Agile. However, you can't expect to have a long-lasting change if you require teams to change how they work without introducing core Agile values and principles as well as training to support the new mindset.
Favored Agile Practices & Frameworks
As you can see from the chart below, there are really very few places where Agile doesn't belong. Typically, within marketing, Agile is widely used in the areas of social media, creative, and web. The need for quick execution and frequent iterations makes these activities a natural place to apply Agile.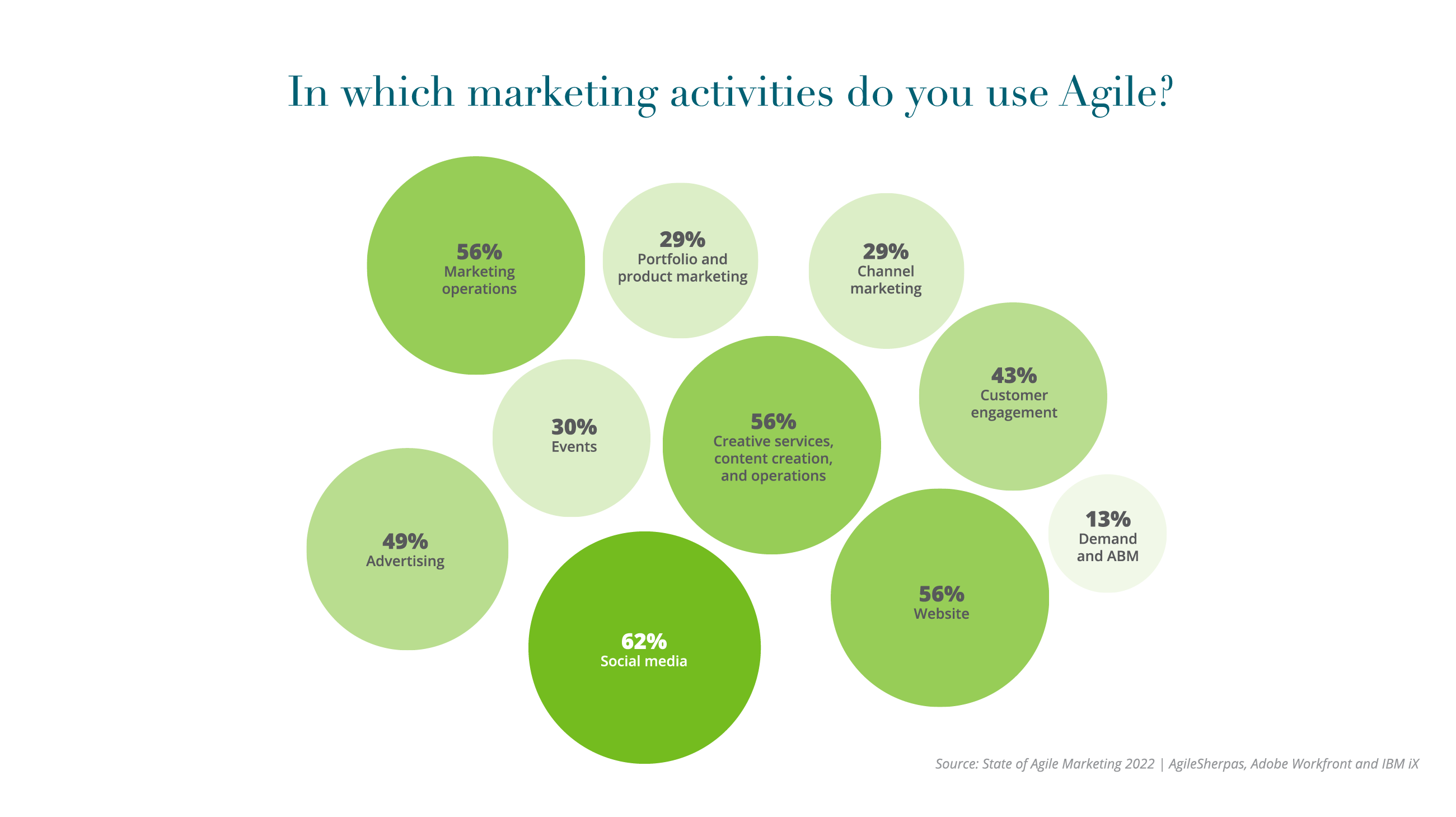 This is another repeat appearance in the State of Agile Marketing Report that we always need to emphasize: Agile marketing is hybrid. The standard frameworks work for many, but more marketers lean towards a hybrid approach as it best meets their needs.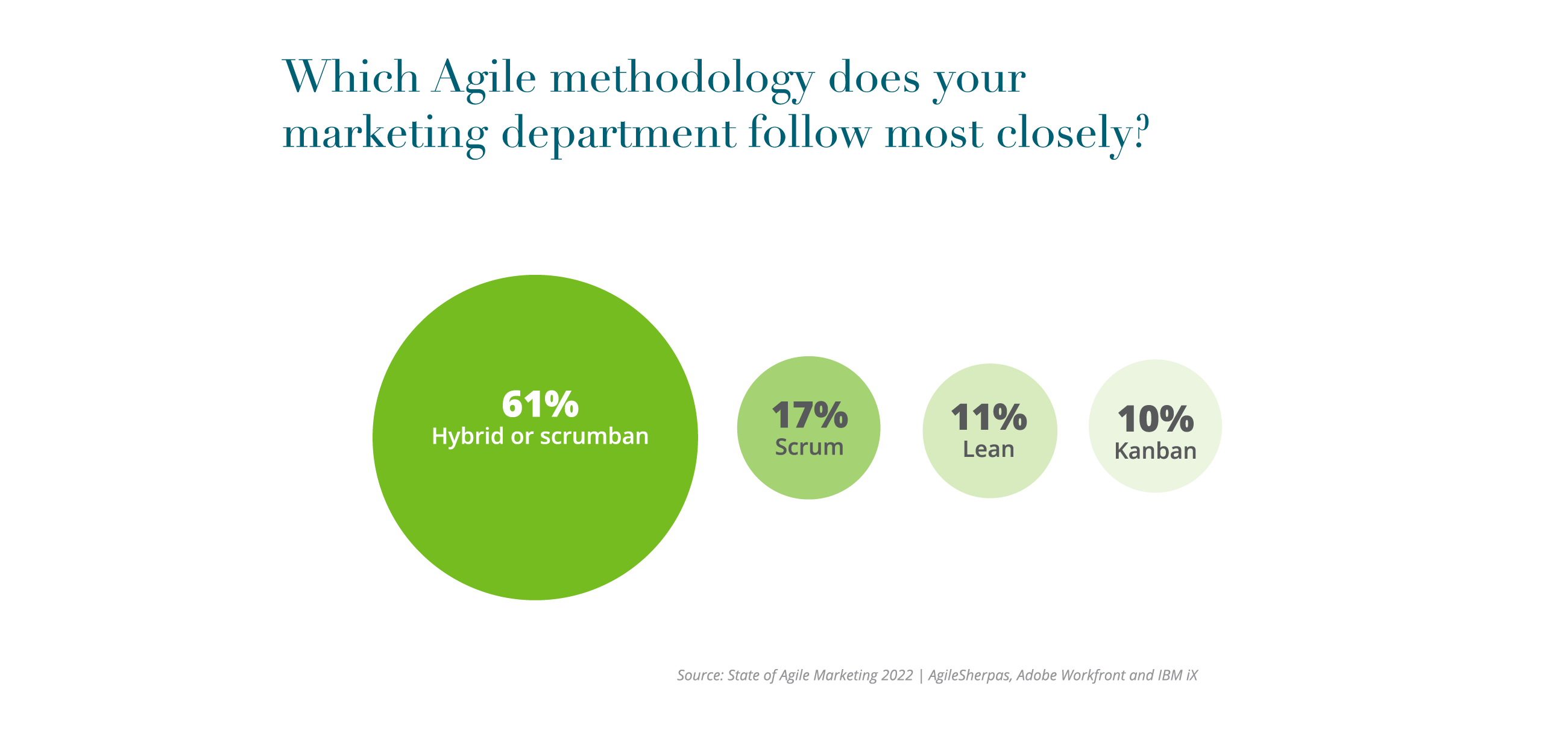 The trending Agile practices from last year are still trending one year late. Daily standups, retrospectives, sprint planning, and user stories are still the most valuable Agile practices according to the respondents.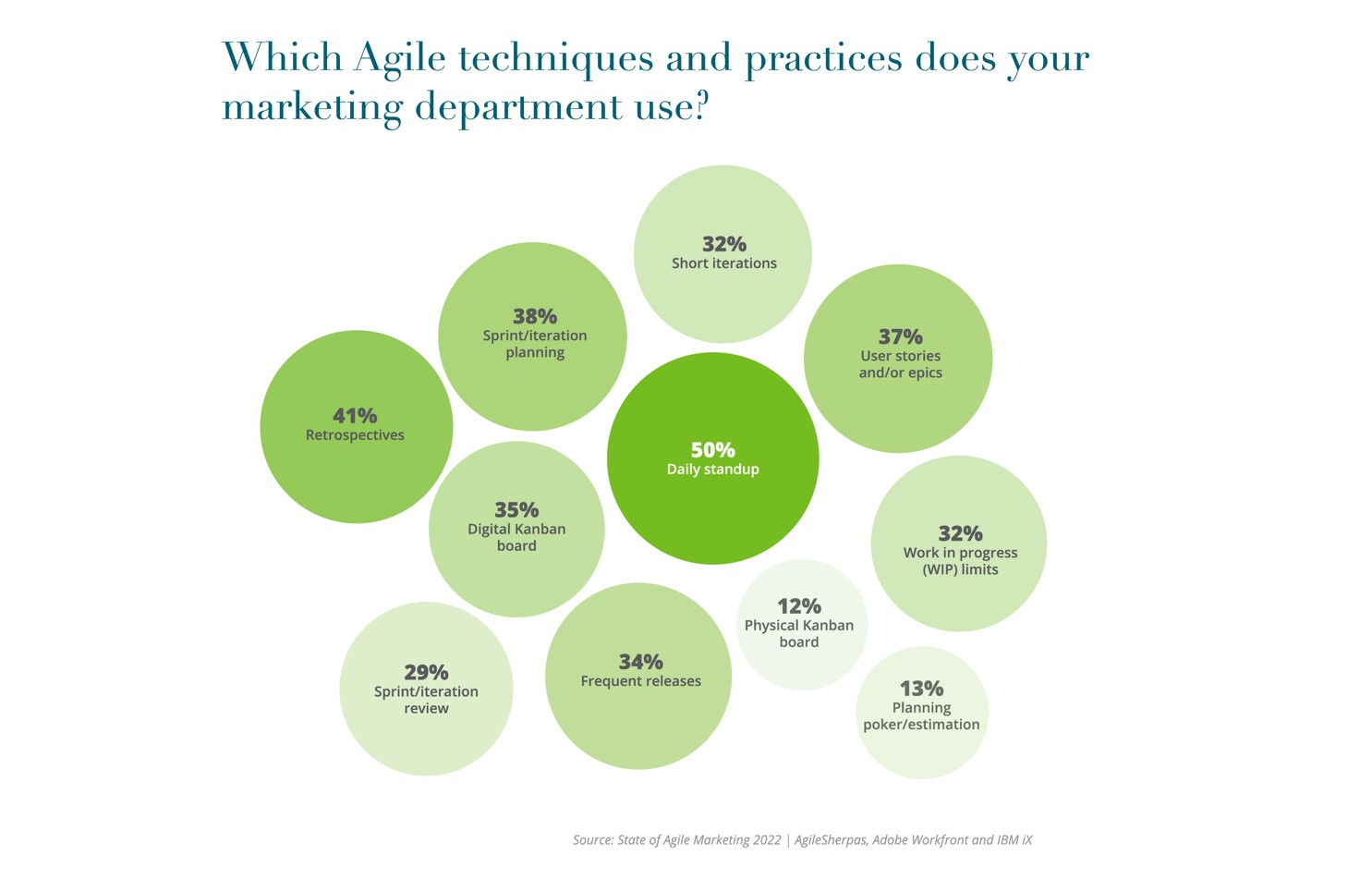 From Marketing Agility to Business Agility
As part of our 5th State of Agile Marketing Report, we were interested in exploring the relationship between marketing agility and holistic business agility. So, we asked survey respondents about Agile in sales, HR, and finance and spotted an emerging trend.

Seventy-four percent of Agile marketers believe it would be easier to work with other departments if they followed an Agile methodology. It seems the time has come for agility to scale across the organization.

Fortunately, the Agile marketing approach to tackling work effectively is enticing other departments to give it a try. Agile is growing and spreading to adjacent functions of the organization such as sales, finance, and HR. In fact, the percentage of sales teams using Agile has nearly doubled in a single year climbing from 18% to 33%, followed by product management, finance, and HR.

Agile marketing has led the way, but we need larger business agility transformations to truly unlock the opportunities that Agile has to offer. To get value to customers faster, innovate consistently, and keep pace with the ever-evolving environment we all inhabit, agility needs to permeate through the entire organization.

Wider business agility transformations will be able to unlock the full potential Agile can bring to the organization at large. We'd wager that the future of agility in the business won't just be in the marketing department.

If you'd like to review the full report, you can find it here

We're rewarding and offering recognition to organisations for examples of excellence within Agility in Marketing through the first Agile Business Awards.
---
Please note blogs reflect the opinions of their authors and do not necessarily reflect the recommendations or guidance of the Agile Business Consortium.