There has been lots of talk about 'the great resignation' and how the workplace is changing alongside the uncertainty COVID has brought over the last 2 years. Following the second annual State of Agile Culture report, we decided to ask the community if they had a story to share about the impact this time had on them, and their personal growth in agility.
Clare Groves had previously been a Senior Transformational Lead in manufacturing and grabbed the opportunity to upskill and change role to become a project manager within a world-leading provider of biosimulation software and biostatistics services.  
We asked her "Why the job change? What was it that triggered the move?"

Clare explained that the opportunity for working from home had been a real driver in her decision: "I was looking for a job closer to home or with the option to have more of a hybrid and virtual working pattern. I was also looking for a challenge after being in the same company for over 5 years. The online Agile Leadership and Management course from the Open University gave me new learning and new skills that really opened doors.

"I will really miss a fantastic team but excited to join an already successful growing company that has lots more growth potential and a real focus on developing the talent of their people."
What was it that led you to this Open University course in Agile Leadership? 

"I saw a post on LinkedIn from the Open University, that highlighted a 'Skill Up' initiative that I'd be eligible for. When I read through the course options, I knew this course would be fantastic for helping me advance in my career path:  I chose it because it combined research aspects with good practice principles and tools that I could apply to my daily work. I hoped this would give me confidence as I aspired to make a job switch into a new industry and contribute to my future goal to take on a leadership role."  
What are your top 3 takeaways from the course?

"The course gave me so many top takeaways that it's difficult to pin down just 3. For me, the course highlighted the value of improving yourself and planning – demonstrating the big impact this can have on overall performance. It also gave me the confidence to value quality over quantity – I know now that this sits at the heart of an Agile approach. The importance of practising self-care and having a daily life balance also came out strongly.

"I learnt loads of strategies and ideas to increase team engagement and cohesion, and it really inspired me to try and develop a culture of "feedforward" feedback."     
How has the course impacted your career and day-to-day performance? Did it help with the decision to move jobs?

"I developed the confidence to find a new opportunity where I could continue to grow and develop and most importantly use my skills. I have now taken up a new position with a world-leading provider of biosimulation software and biostatistics services!  

"I am really enjoying my new challenge and the opportunity to apply my new knowledge about an Agile approach to leadership. My new company has been recognised as a Platinum Level Innovator and it's exciting to work in a business that is developing and growing fast and values its employees and their new ideas.  Innovation, empowerment and growth mindset are the results of an Agile leadership approach and I feel these principles can thrive in my new environment."
What would you like others to know about this course?

"I couldn't believe how flexible it was. As a busy mum with a young family and also working full time, I was concerned about how easy it would be to study. The online learning was great and meant I was able to take the course at my own pace and plan the learning around my other commitments.  I was able to share with others and get feedback on my ideas and get to know some of the other students. I found I was learning not only from my own thinking but from their ideas, and how they can put some of the principles into practice. It was fantastic finishing with a detailed plan that converted my learning from the Nine Principles of Agile Leadership into clear actions.

"My learning and the impact of this course doesn't end here! I will continue to reflect on my Agile leadership style and the strategies I want to adopt as newly learned behaviours."
Thank you, Clare, for sharing your story with us. This Agile Leadership and Management training is a 12-week course, entirely online, and results in 15 academic credits at Postgraduate Level 7.
Author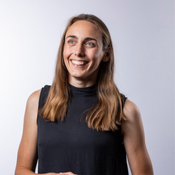 Emily Ruffle
Working as part of the delivery team, Emily is responsible for proposition development and delivery, a varied role working with the team to enhance the Consortium's communications, partnerships, and products and services. Her evenings and weekends are taken up by sailing, crafting, allotment digging and exploring the great outdoors – following her mantra "live your life and eat cake!".