What is Operational Agility?
Organisations operate in a world that's characterised by volatility, uncertainty, complexity and ambiguity.
To survive and thrive in such an environment, an organisation needs to be able to respond quickly and decisively to any new opportunities and threats that emerge.
Doing so is dependent upon the Operational Agility of the organisation, with the most agile being able, with ease and consistency, to turn turbulence in their operational environment to their advantage. In contrast, the least agile will need a special response to avoid being overwhelmed by even the smallest stimuli.
The Operational Agility of an organisation is dependent upon agility in the following areas:
---
Customer
Ecosystem
People
Culture
Leadership
Governance
Operate
Change
Support
Strategy
The Framework for Business Agility
Agility in an organisation's culture,
​leadership and governance​
enables​
Agility in its capability to operate,​
change, and support its business​
and optimises​
Agility in its delivery of value to its​
customers, its ecosystem and its people

Agility in strategy ensures that
the organisation maintains a focus​
on delivery of value
The Framework for Business Agility has been created to help organisations survive and thrive in a volatile, uncertain, complex and ambiguous environment. It's been shaped by the real-world experiences of Consortium members and other agile professionals.
At its heart lie the three elements that can make an organisation truly agile: its culture, leadership and governance.
The agility of each element will influence the way the organisation operates and evolves in response to the ever-changing needs of its customers and stakeholders.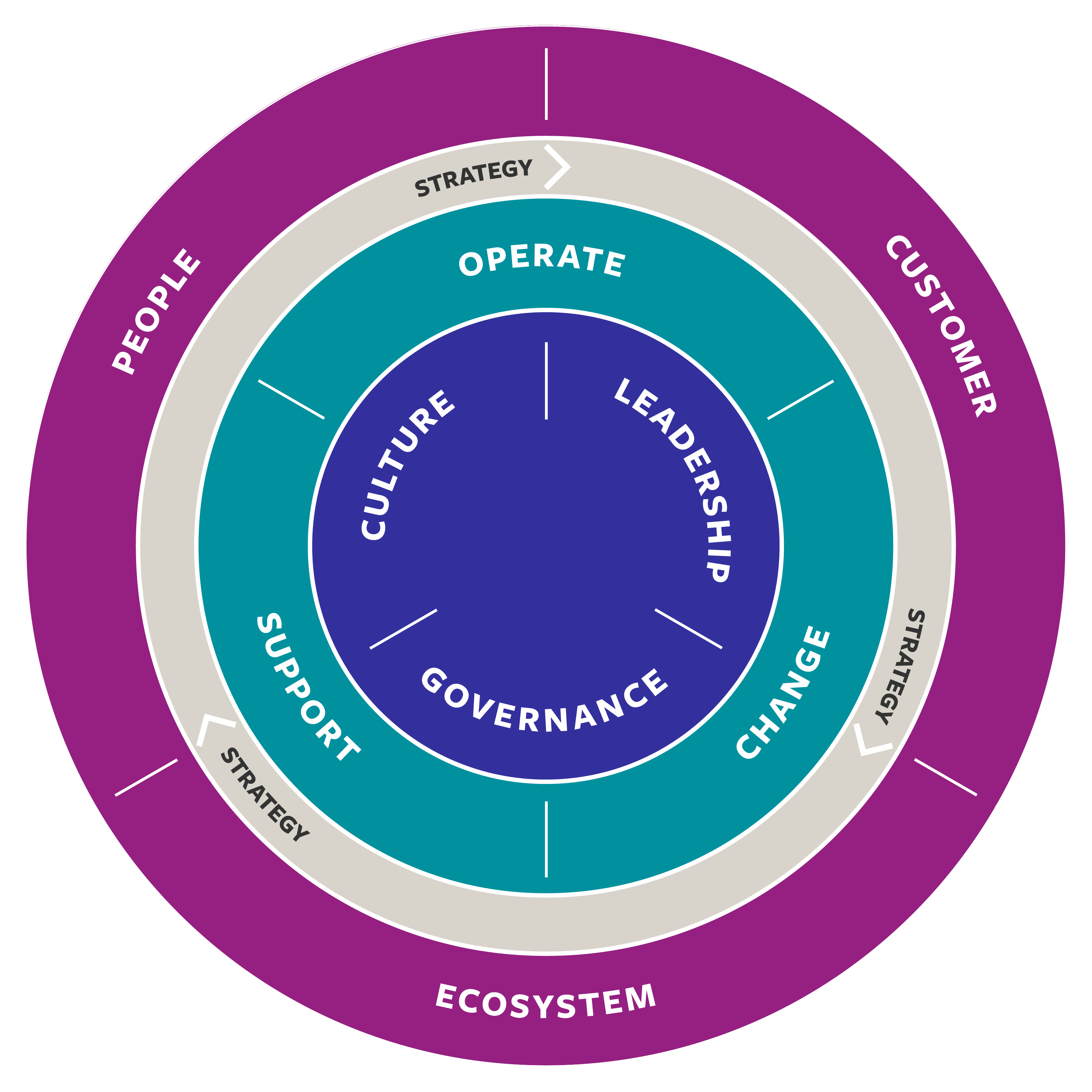 Customer
Value Customers of the organisation
The primary focus for the delivery of value for most organisations should be their customers.
The most successful organisations will be those that sustain delivery of value in a VUCA world (characterised by Volatility, Uncertainty, Complexity and Ambiguity)
To survive and thrive in this regard it is important to organise in a way that enables the business to constantly deliver value to customers, in a changing world, with changing customer needs.
Everyone in the organisation needs to:

Know the customer and the value they deserve so that all decisions are focused on adding to that value.
Understand the customer's "why", to help anticipate their needs. In public sector organisations, the citizen is the valued customer.

Sustainable shareholder / stakeholder value can only be achieved as a result of knowing, understanding, championing and serving the customer. That is critical to the success of the organisation and must be the primary driver.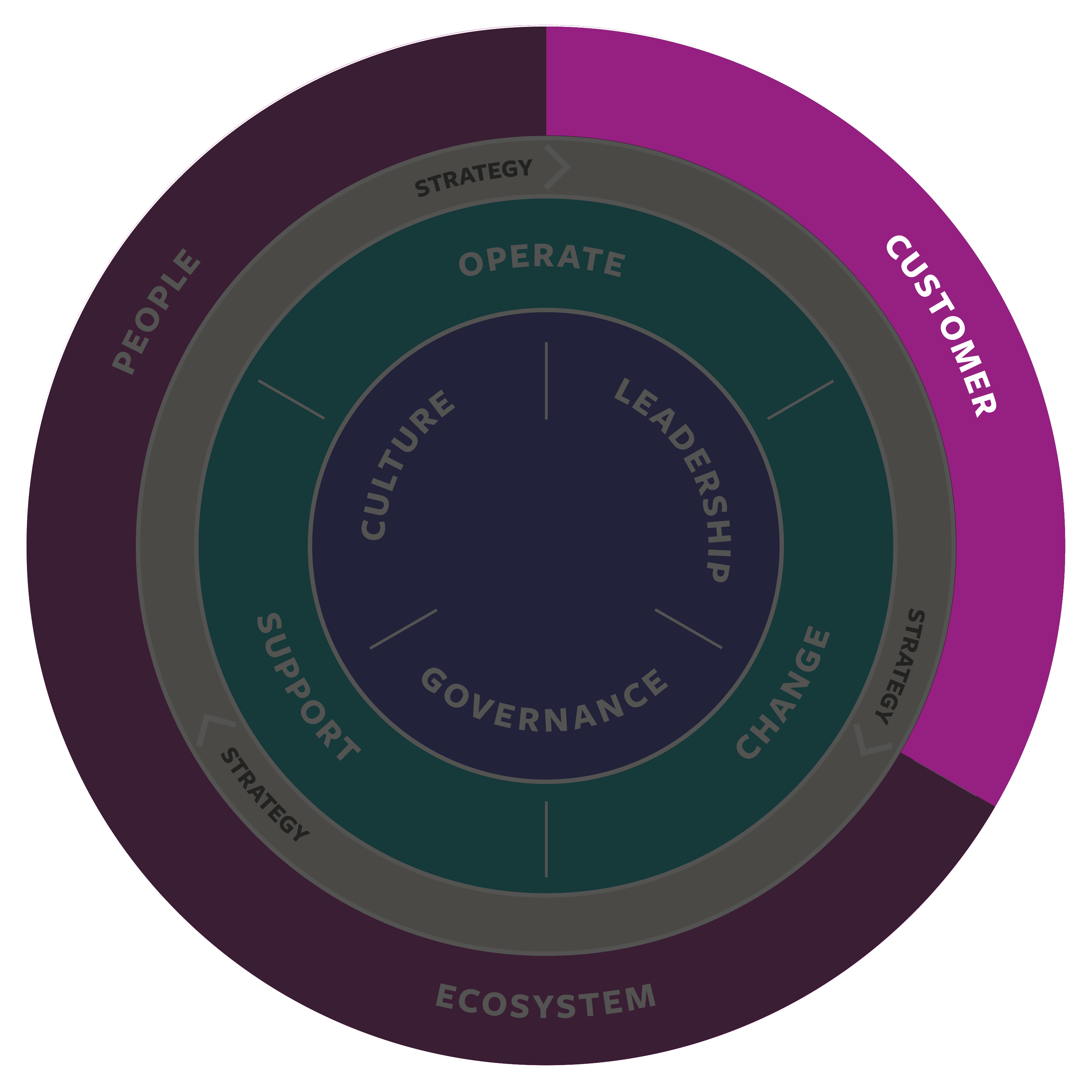 Ecosystem
Value the Ecosystem in which the organisation exists
No organisation exists in isolation. It lives in:

An organisational ecosystem of regulators, suppliers, competitors, partners, innovators and innovations.
A social ecosystem of individuals, communities, rules and customs.
An ecological ecosystem of resources, energy, and nature.

To survive and thrive requires an organisation to understand its role in its ecosystem with success defined by how it delivers customer value while contributing positively to the ecosystem in which it lives.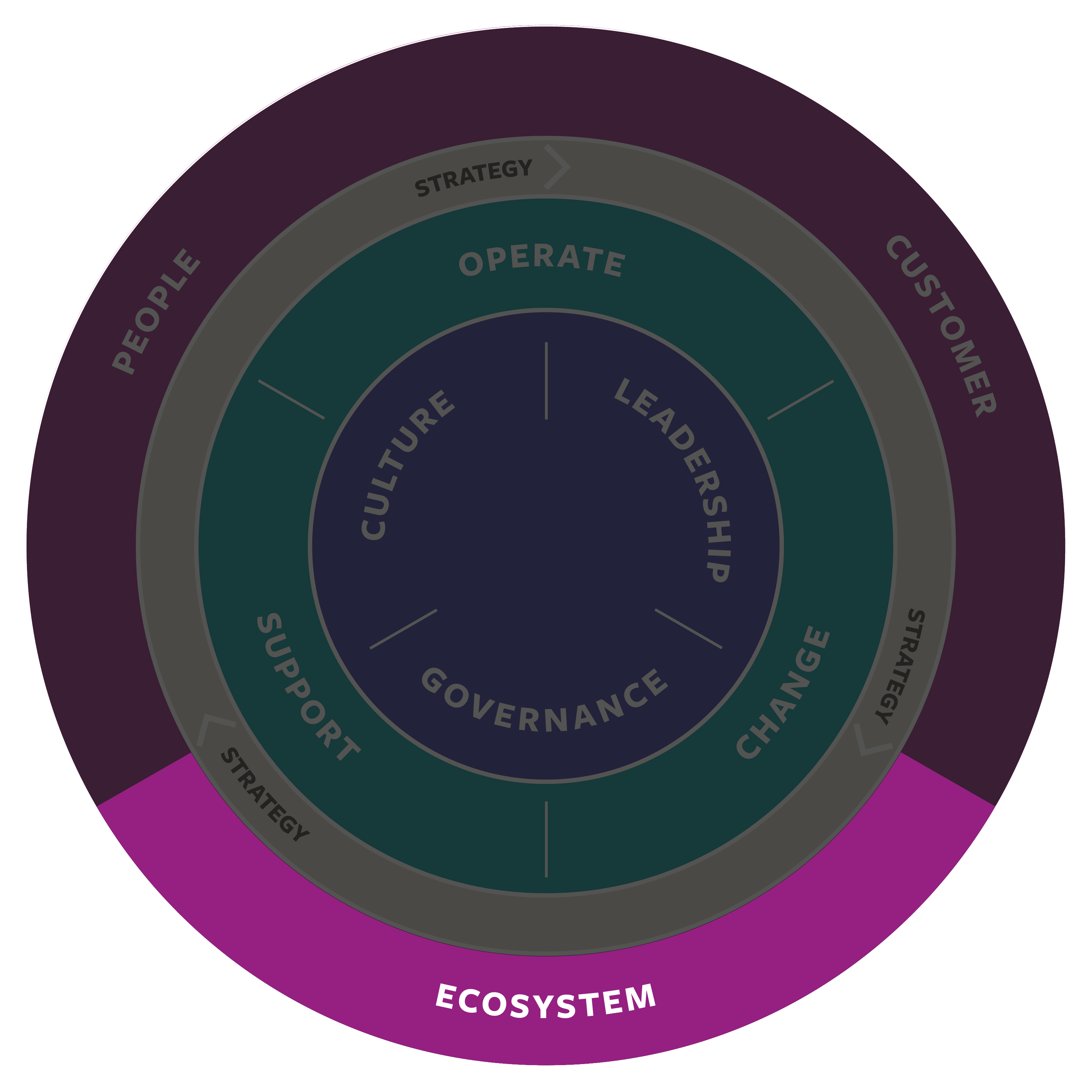 People
Value the people within the organisation
People are the powerhouse of every successful agile organisation – one that is able to survive and thrive in a world characterised volatility, uncertainty, complexity and ambiguity.
Trusting people, allowing them to develop and show their talents in the organisation, and engaging them through purpose, is critical to ensuring the sustainable success of an organisation.
Collaborating talents, happy with their work, focused on delivering value, and supported, but not constrained, by processes and technology, are the core of a resilient, responsive, agile and thus successful organisation.
People learn and adapt faster than systems: They

Learn and adapt most easily when they feel safe
Are more creative when powered by diversity
Grow naturally when learning from each other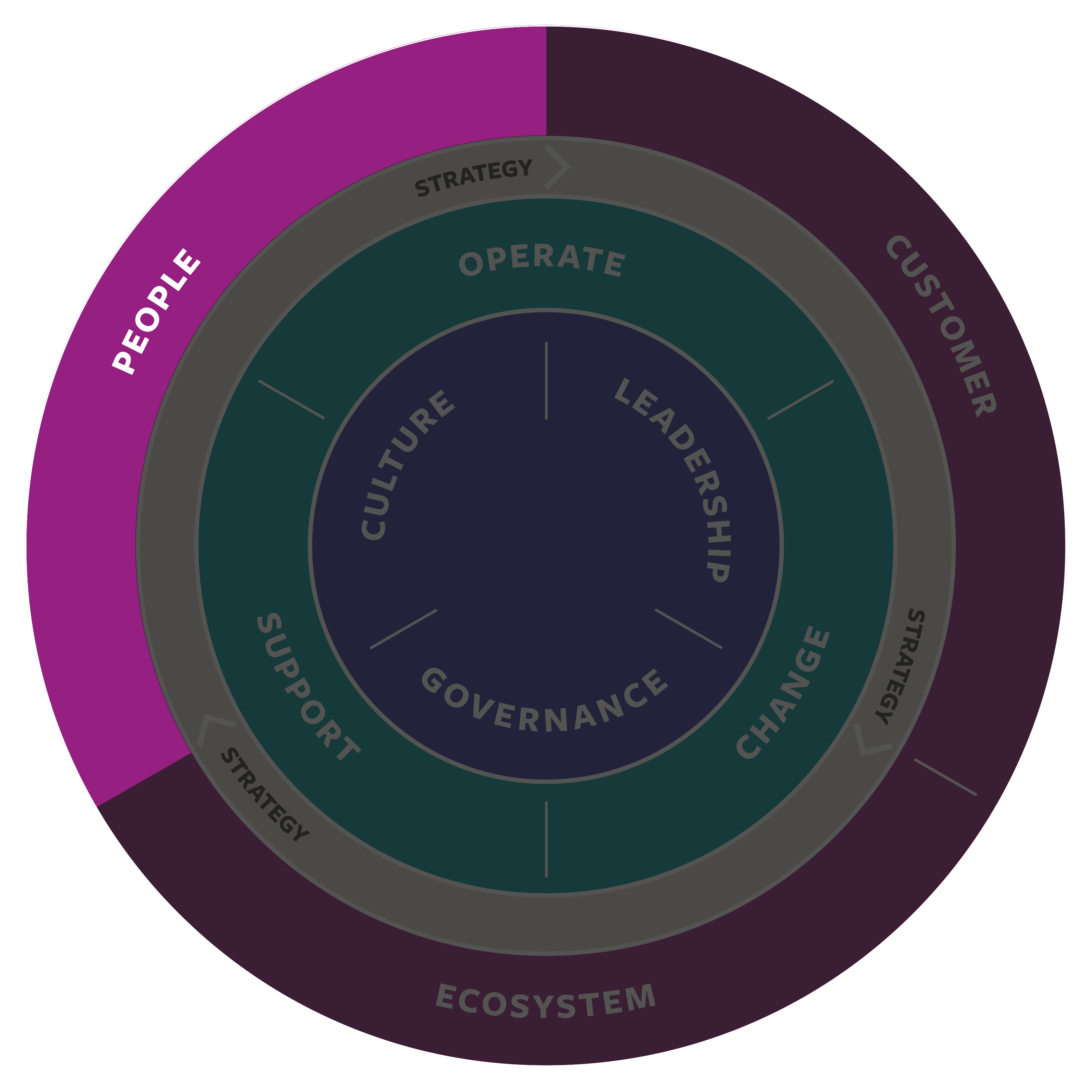 Cultural Agility
An organisation's culture reflects its personality – one that's influenced by a range of factors, including its size, geographic spread, beliefs, and values. People and events also affect an organisation's culture.
An agile culture provides an organisation with a set of core values, behaviours and practices that allow it to prosper in a world characterised by volatility, uncertainty, complexity and ambiguity.
Its success also comes from promoting, encouraging, rewarding and harnessing the flexible and innovative behaviour of people within the organisation, by nurturing the three components of intrinsic motivation: autonomy, mastery and purpose.
There are seven elements that combine to form the DNA of an organisation's agile culture, for which there is a Development Matrix for Agile Culture describing five levels of agility for each of the seven elements.
Please feel free to use the Matrix and the associated Pulse Survey to understand and enhance your organisation's agile culture.
View more about Agile Culture.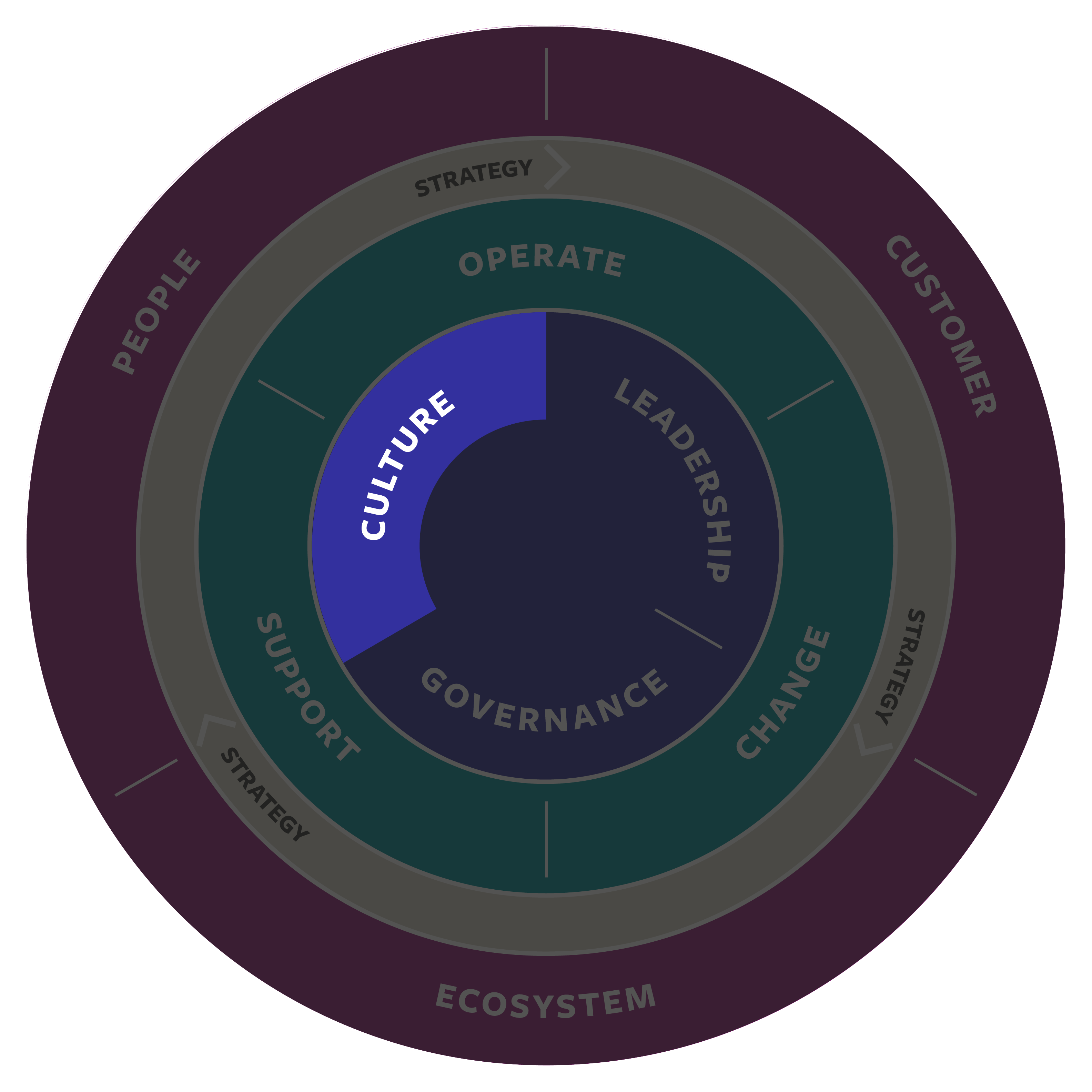 Leadership Agility
Individuals within an organisation are typically identified as leaders as a result of one or more of: Their knowledge and experience related to what they are leading; their competence as a leader; and/or their position within a hierarchy.
To create and sustain flexible, resilient and adaptable organisations, agile leaders seek to develop others as leaders at all levels, believing that everyone has the potential inherent in a growth mindset to deliver on a shared purpose.
To be credible and effective, agile leadership requires a willingness from those who lead to ensure that they extend their own competencies, capabilities and thinking to 'being' agile rather than just 'doing' agile.
There are nine principles for agile leadership that are aligned with the agile themes of communication, collaboration and commitment. These principles should be embraced by any leader wishing to harness the power of collective effort – regardless of the scale of the change or the authority they inherit from organisational structure.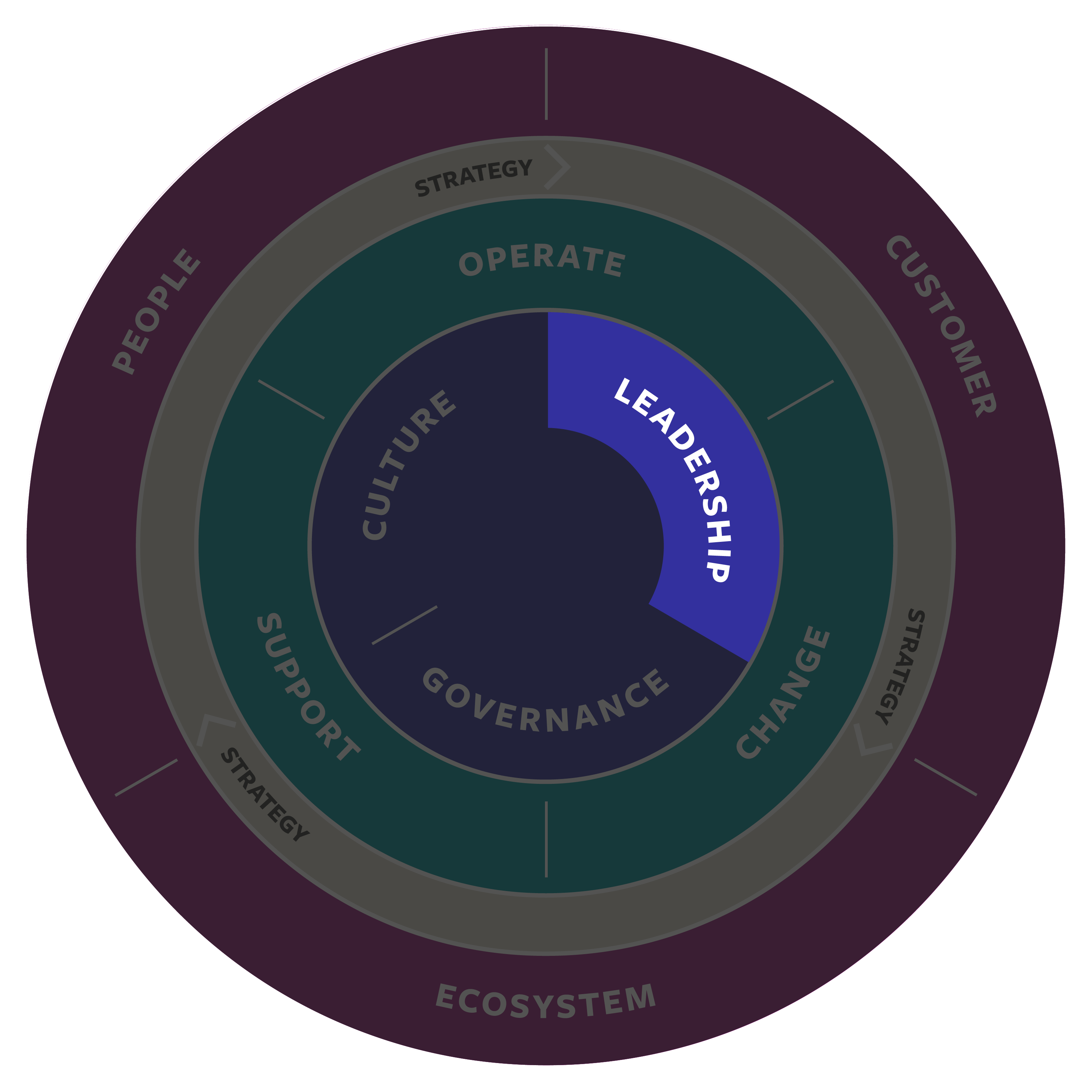 Governance Agility
Agility in governance reflects a light-touch, flexible approach to decision-making and oversight needed to ensure that the activities of an organisation remain aligned with the values and purpose of its sponsors and regulators.
The term sponsor depends entirely on the organisation context: For an entire business, the sponsors are its shareholders; for a charity, its trustees; for a government body, its citizens etc. At a smaller scale, in subdivisions of the organisation, the sponsor may be an individual, a team or a committee with devolved authority.
In principle, governance is universal, pervasive and scaled. It is based on:

Empowerment

– reliant on informed decision making, at the lowest responsible level, that is responsive and at pace.

Alignment

– with the purpose and values of the organisation and any appropriate legislation.

Transparency

– easy for people internal and external to the organisation to see what is going on and when intervention is needed. Providing an auditable record of activity where needed to demonstrate compliance and appropriate management of risk.

Agility in Governance values: radical transparency, trusted autonomy, collaborative responsiveness and Informed judgement. To be effective overall, this should be applied through all levels of devolved accountability.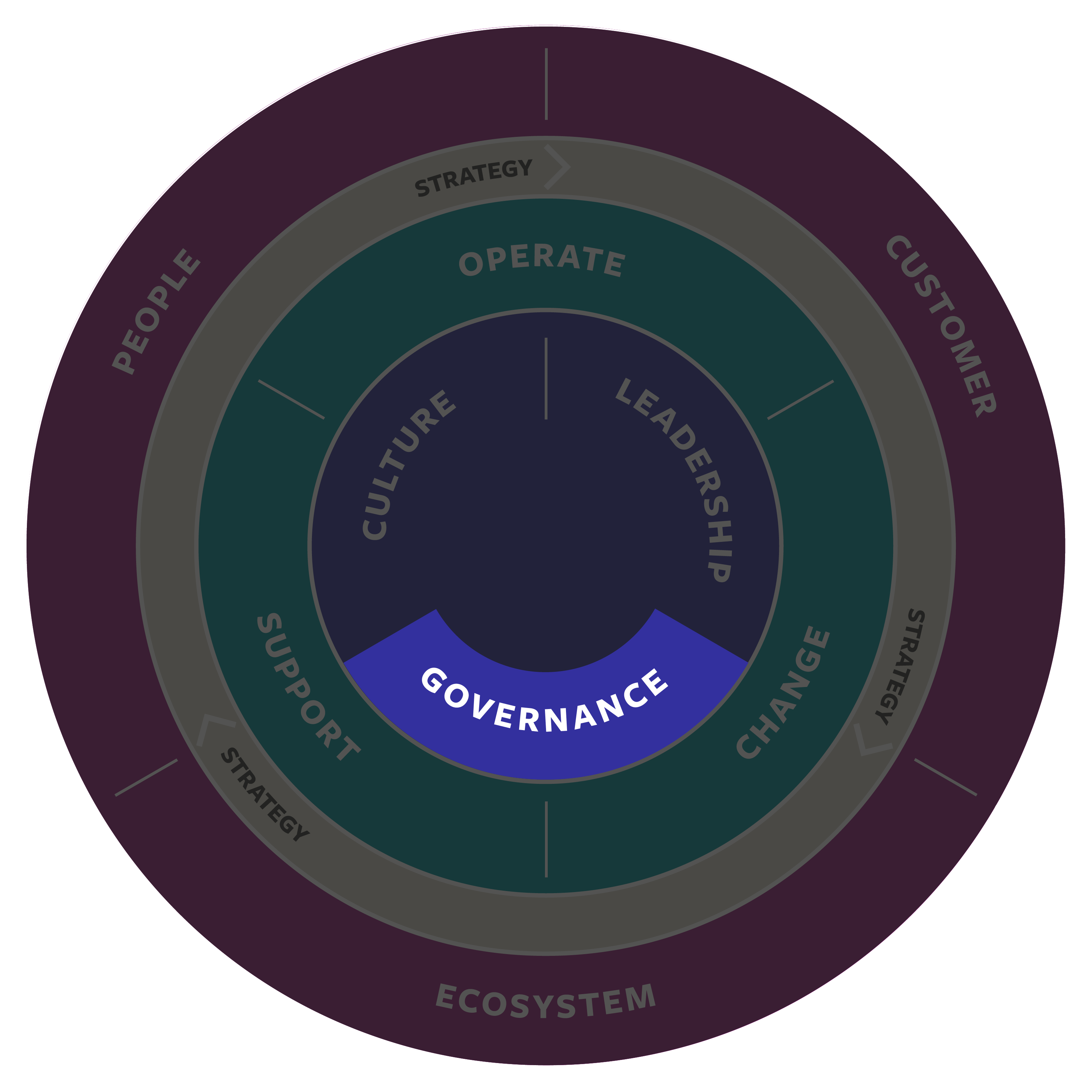 Operational Agility
Agility in business operation, business change and the internal support of these are at the heart of every business that is able to survive and thrive in a VUCA world (one characterised by Volatility, Uncertainty, Complexity and Ambiguity).
Operational agility allows the organisation to respond, day-to-day, to the ever-changing needs and demands of their customers, their people and their ecosystem.
Note that where pressure for change exceeds the capacity and capability of operational agility, a special response may be needed. This is achieved through agility in business change that exists in a continuum with operational agility.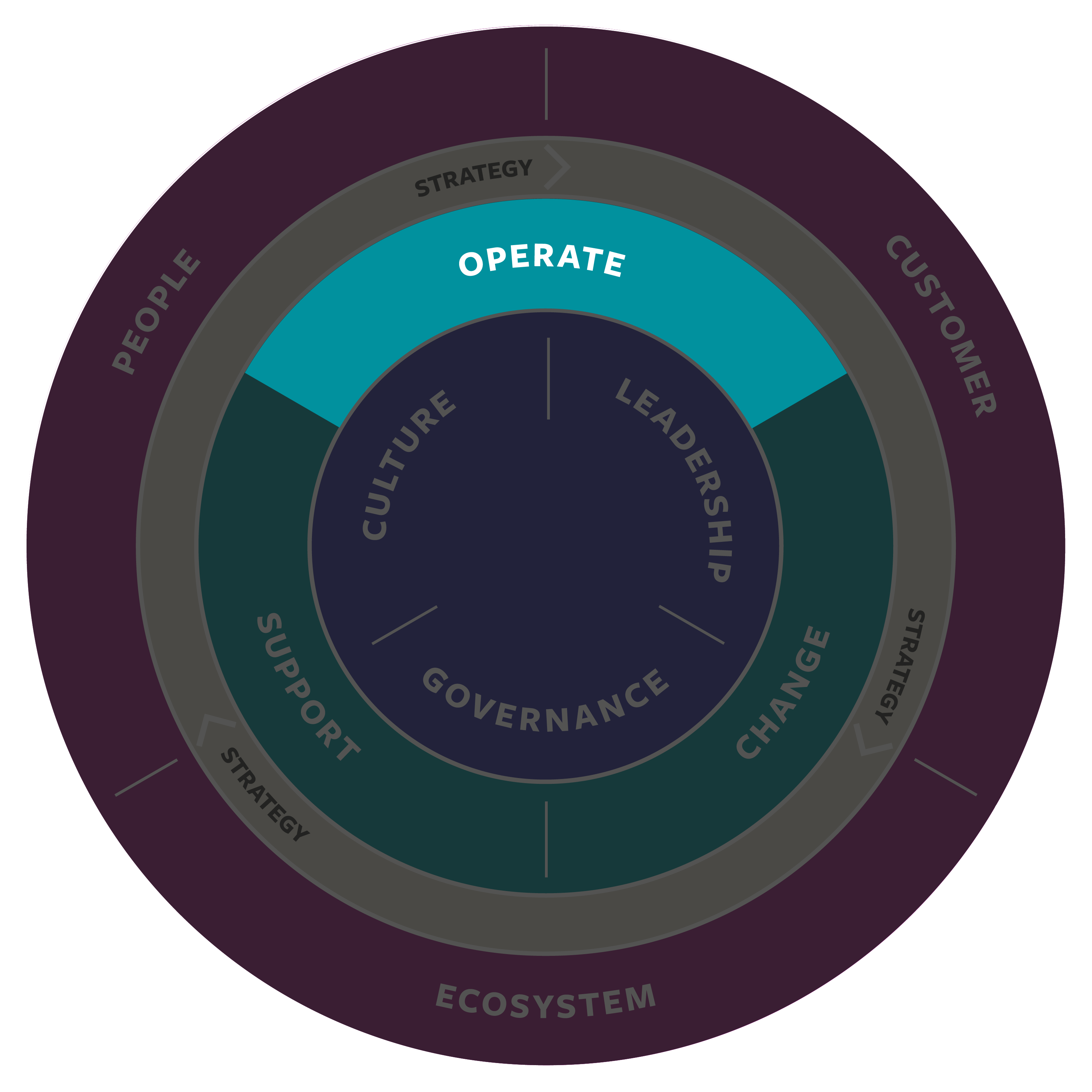 Business Change Agility
Where pressure for change exceeds the capacity and capability of operational agility, a special response may be needed. This is achieved through agility in business change that exists in a continuum with operational agility.
Examples of such changes may include: Changing the way the organisation operates to comply with new regulations; bringing new products or services to market; moving existing products and services to new markets; and transforming the business – either to meet a new purpose or to achieve an existing purpose in a significantly different way
In order to be successful, these larger changes, often need to be organised alongside the day-to-day operation of the business in a way that allows the value of the change to be delivered incrementally and as early as possible but without creating turbulence that risks overwhelming the operation.
Transformational initiatives to develop significant new products, services or capabilities and ensure that the value of these are fully realised, e.g. by changing operational value delivery processes, support processes, and/or bringing about change in culture, governance and leadership often need to be managed as agile projects or programmes.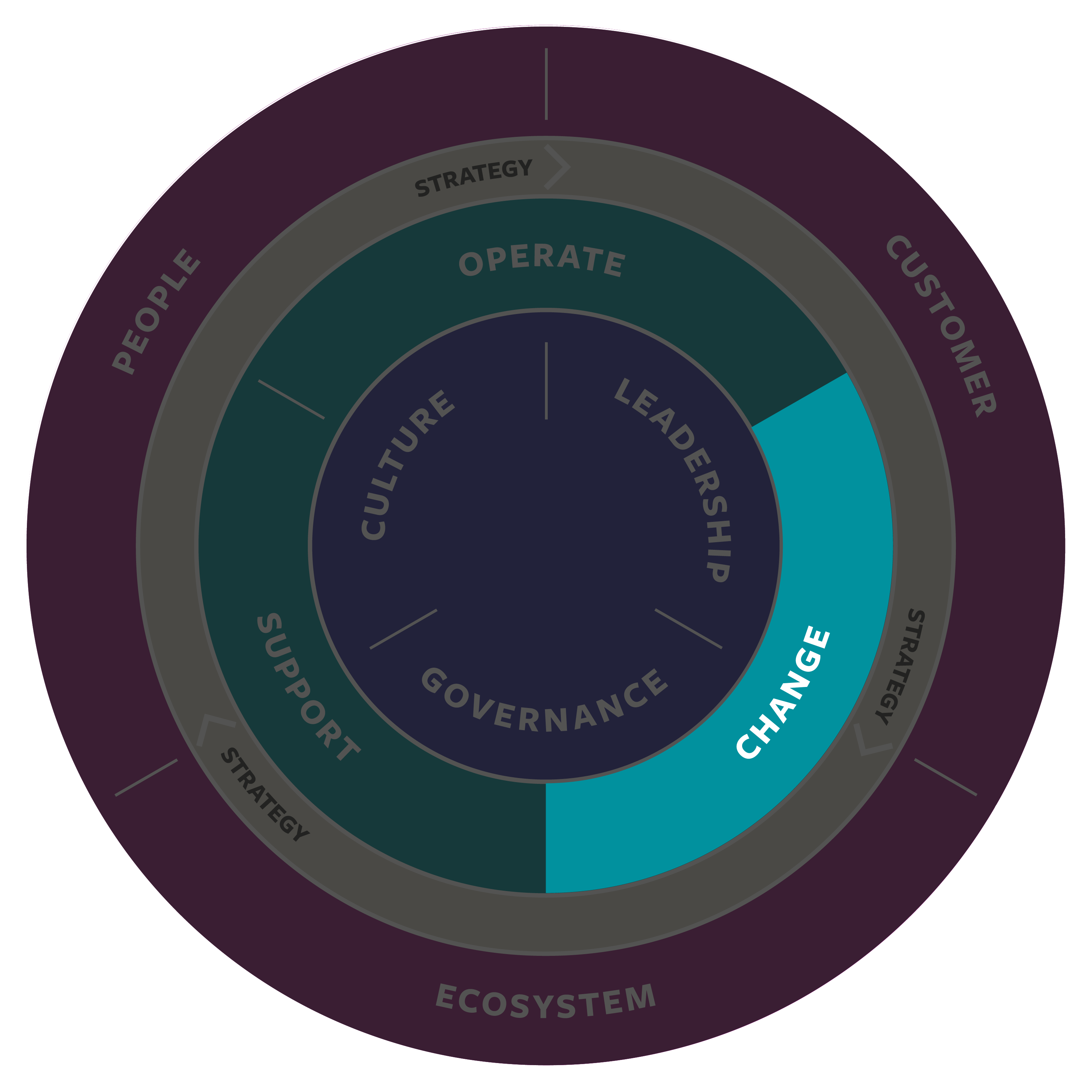 Business Support Agility
Agile support processes enable the organization to deliver value to people, customers and Ecosystem. They don't directly deliver value themselves.
Agility in the way business support functions (such as Finance, HR and Procurement) work will allow the organization to:

Recognize and respond rapidly to business opportunities and challenges.
Keep and grow people and customer relations by supporting a growth mindset.
Rebalance and refocus if and when needed while stabilizing and maintaining focus where that is appropriate.
Achieve its purpose by adding value to customer, people and ecosystem.

And overcome issues that often hinder the organization in its business agility:

Inflexible financial and planning processes prohibit pivoting and reassigning people and resources.
Restrictive HR policies and processes may prevent people from focusing on collaborative and innovative stakeholder-centric delivery of value and building new competences to do this.
Heavy process-driven approaches to procurement do not allow for relationships to change if the situation requires it.
Overly structured marketing & sales processes might cause blindness to new wishes, new opportunities or new markets.
Inflexible facilities management policies and practices may inhibit collaborative working and the essential focus on delivery of value.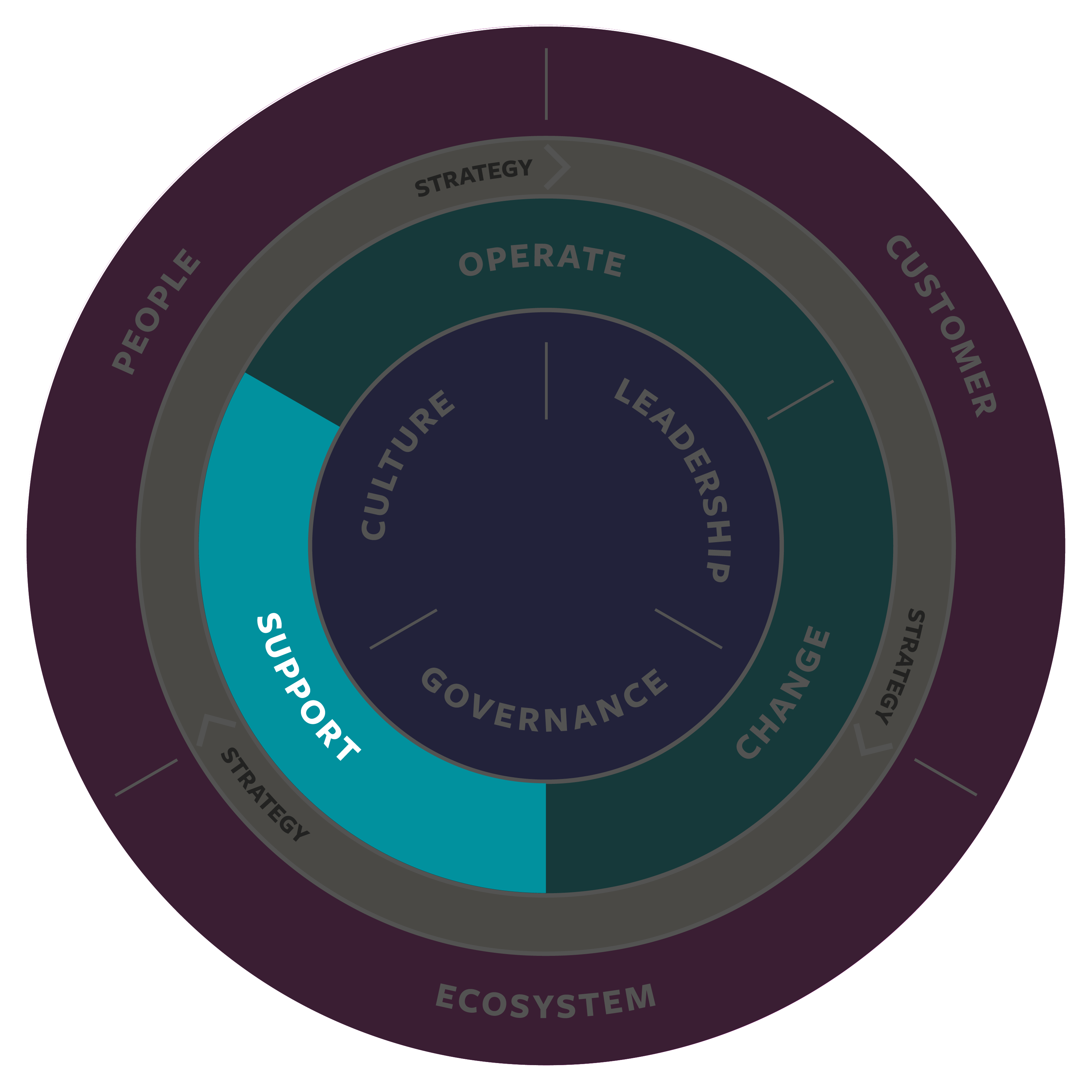 Agile Strategy
Agile Strategy connects the operation of the organisation, and the way that is changed and supported, with the delivery of value to its customers, its people and its ecosystem.
It consists of a set of guiding principles that is communicated and adopted in the organization, to generate a desired pattern of formal and informal decision-making needed to maintain a focus on delivery of value, allowing for learning in a VUCA world.
In an agile organisation, strategy is not defined, fixed and implemented, but is in a constant flow of defining, realising, measuring, and adapting. This requires open eyes and ears, and open and rapid flow of information.
Agile strategy is therefore about how people throughout the organization are expected to make decisions and allocate resources in order to accomplish key objectives.
To make this a reality agile strategy requires effective agility in culture, leadership and governance.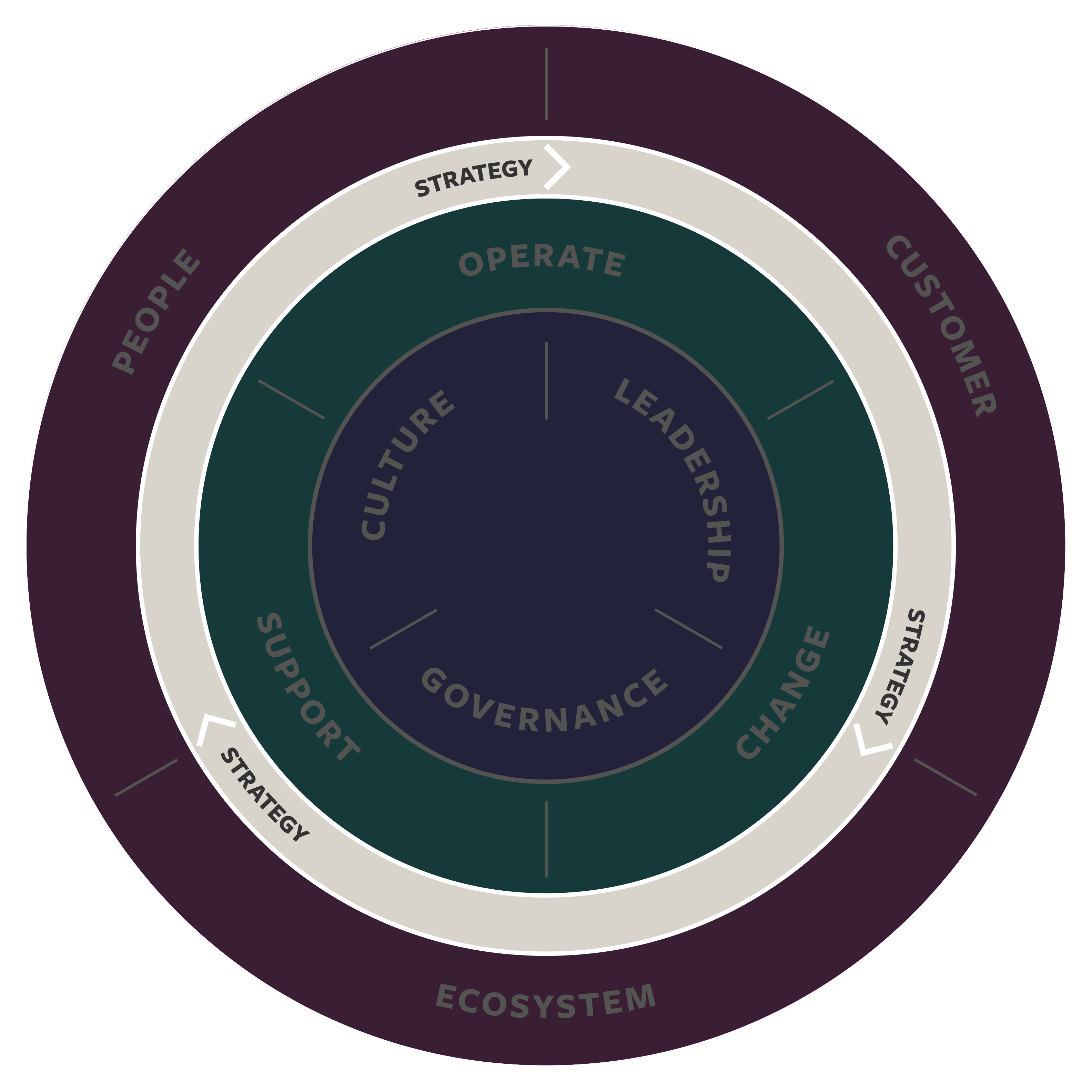 Become a Member
Membership is a way of connecting with the agile community, helping one another with ideas, techniques and spreading the word of agile among businesses and individuals.