This event is co-hosted with our strategic partner The Agile Marketing Alliance – a global community of Agile Marketers.
Agile Culture is a critical element of overall Business Agility. Take the Agile Business Consortium's Agile Culture Pulse Survey and gauge how agile your organisation's culture really is. Experts will help guide you through your survey results and show you how to make progress in evolving your organisation's culture. We'll also be covering success patterns and anti-patterns relating to Agile culture.
Note: please take the pulse survey ahead of the session to ensure you get maximum value.
Learning Objectives:
Explore what Agile Culture means to your organisation
Recognise the behaviours behind Agile Culture
Measure seven different areas of Agile Culture in your organisation
Gain awareness of success patterns and anti-patterns of Agile culture as it relates to Business Agility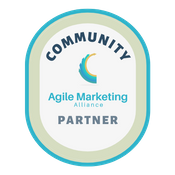 Agile Marketing Alliance
The Agile Marketing Alliance is the only free, global online community focused on Agile Marketing. We are passionate about Agile marketing, and have a mission to learn, share, and grow together. We strive to help ourselves and each other to become better marketers, to advance our careers, and to rediscover the joy of marketing.
Our community provides access to knowledge, events, peer interaction, toolkits and more.
Email:

Website:

LinkedIn: